If you do not see today's Fishing Report, please refresh your browser to empty your cache.
Welcome to the Fishing Report from Townsend, Tennessee in the Great Smoky Mountains. At 7:02 am, the temperature outside is 69 degrees.
In Townsend, .31" of rain fell yesterday. Currently, light rain is falling.
The forecast today calls for more rain in the form of showers and thunderstorms. A quarter to one half of an inch is possible. Showers and thunderstorms are likely tonight, a 60% chance. We have an 80% chance for showers and thunderstorms tomorrow, with the possibility of heavy rain. The chance for rain and storms continues through Sunday and beyond.
It seems, the weather forecasters are backing off of their earlier predictions. The National Weather Service is still saying that "localized flash flooding and flooding of low-lying and poor drainage areas is expected this weekend and will continue through early next week".
Little River is flowing low at 114 cubic feet per second (cfs) or 1.63 feet on the flow gauge. Median flow for this date is 162 cfs. The water temperature is 67.1 degrees this morning.
Little Pigeon River is flowing closer to median flow at 226 cfs, 1.63 feet compared to median flow of 275 cfs.
Oconaluftee River is flowing very close to median flow at 342 cfs or 1.66 feet at the Birdtown gauge. Median flow for this date is 360 cfs.
Tellico River looks good this morning. Flow there is 174 cfs, 1.24 feet, compared to median flow of 152 cfs.
Cataloochee Creek's flow looks good too, at 79.3 cfs, 2.46 feet, compared to median flow of 70 cfs.
So far, so good. No blown out streams to report, yet.
It is overcast this morning. Fog is blocking my view of the Smokies. I would be tempted to go. The weather radar does indicate rain moving our way, but I don't see anything threatening.
If you go fishing this weekend in the mountains, watch for quickly rising water. A thunderstorm could be dumping water into the river upstream and you may not know. When the weather forecasters mention localized flooding, we should all be aware that a flash flood is possible.
I would be fishing with nymphs this morning. This looks like a good nymphing day. With the absence of sun, you can fish closer to the trout without spooking them. If it stays this dark all day, that would be an advantage for you.
I would use Green or Pink Weenies, Tellico, Prince or Hare's Ear nymphs, or any other reasonable pattern.
Dry flies may work too. Try a black foam beetle or a Yellow Sally Stonefly pattern.
This is a good morning to be fishing a lowland river. Visitors to Townsend are catching many trout in Little River through town. Smallmouth bass fishing should be good too. Rock bass are active and some larger than normal fish have been caught this year.
The generators at dams in our area look to be more active today. Visit the TVA website and see for yourself. You might find an opportunity on that list. Check out the Caney Fork.
I guess we are in a "wait and see" mode as far as fishing is concerned this weekend. We do need the rain. I just hope we don't get too much. And, I hope you go fishing and enjoy the weekend.
Have a great day and thank you for being here with us.
Byron Begley
June 7, 2019
Respond to: byron@littleriveroutfitters.com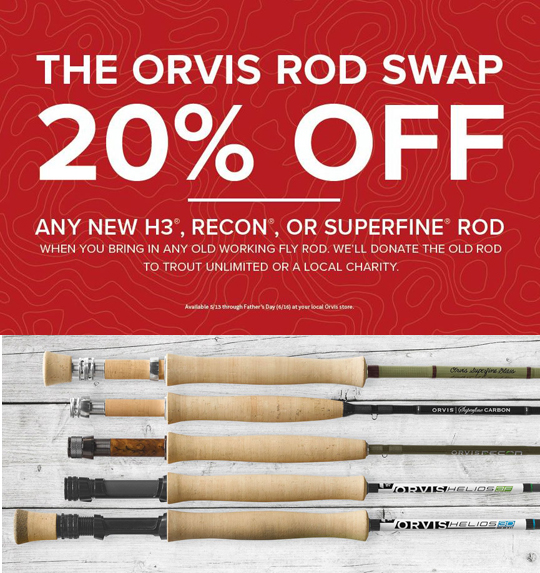 Orvis is doing their Rod Swap promotion again this year. The idea is very simple. Just bring us a functional fly rod and you receive 20% off the regular price of an Orvis Helios3, Recon or Superfine series rod. The rod you bring needs to be in usable condition as it will be donated to a non-profit fishing organization.
The online store won't give you credit for this so if you want to do this via the mail please give us a call and we'll get it all set for you. The promotion begins today and runs all the way till Father's Day. If you want a great rod at a great price this is the perfect opportunity.