If you do not see today's Fishing Report, please refresh your browser to empty your cache.
Welcome to the Fishing Report from Townsend, Tennessee in the Great Smoky Mountains. At 6:55 am, the temperature outside is 70 degrees.
The Knoxville Airport reported rainfall of 1.13 inches yesterday, while in Townsend, we received .39 inches. Rain fell in the Smoky Mountains too, causing some streams to rise.
More rain is predicted today through Monday. The storms are scattered. So, there is no telling how much rain we'll get in a specific area. Some of these storms may produce heavy rain. So, pay attention while you are fishing. Heavy rain may be affecting the river upstream, and you may not be aware of it.
Overall, the rainfall is not expected to be heavy, except in some scattered storms.
Streams may be stained temporarily at times and you never really know which one until you are there. You can watch the flow gauges from the links below to help you plan your fishing day.
Little River is flowing at 222 cubic feet per second (cfs) or 2.02 feet on the flow gauge. Median flow for this date is 157 cfs. The water temperature is 67.3 degrees.
Little Pigeon River rose to the occasion after midnight but it is receding now. Currently, flow is 599 cfs, 2.28 feet, compared to median flow of 273 cfs.
Oconaluftee River rose late yesterday and again after midnight. Flow at the Birdtown gauge is 635 cfs, 2.15 feet, compared to median flow of 347 cfs.
Tellico River at the Tellico Plains gauge is flowing at 207 cfs, 1.36 feet, compared to median flow of 152 cfs.
Cataloochee Creek rose sharply beginning yesterday late, but is is also falling sharply. Currently, flow is 118 cfs, 2.64 feet, compared to median flow of 71 cfs.
I believe I would start with nymphs today and probably a pair of them. They might be Tellico, Prince, Hare's Ear, or Green Weenie patterns. Dry flies may work if the water you are fishing is clear. Try any Yellow Sally Stonefly imitation. Attractors like a small Yellow Stimulator might work. Certainly try a black foam beetle.
If you can find a clear or almost clear lowland river to fish, today might be a good day. it is overcast. Poppers are a good choice. You could also use nymphs or streamers.
Some generators at dams will be very active today, while at others they will not. You can visit the TVA website to help you plan your day fishing on the tailwaters.
I hate fishing the lakes on weekends but this one may not be too bad. Many recreation boaters could stay home due to the threat of rain and thunderstorms. I enjoy lake fishing on days like this one. I usually stay close to the ramp in case I get chased back by a thunderstorm. It is overcast. Smallmouth and largemouth bass love poppers on cloudy days. Bluegill and shellcrackers do to. If poppers don't work, try a Wooly Bugger. Or, try a Rubber Legged Dragon. If none of the above don't work, move somewhere else. Find different structure or habitat.
You may see gamefish busting shad on the surface, thanks to the clouds. If you see that, switch to a Puglisi Threadfin Shad.
The odds are, fishing will be good this weekend. But, the odds are it won't. I think it will be better than many people believe. But, I could be wrong.
Have a great day and thank you for being here with us.
Byron Begley
June 8, 2019
Respond to: byron@littleriveroutfitters.com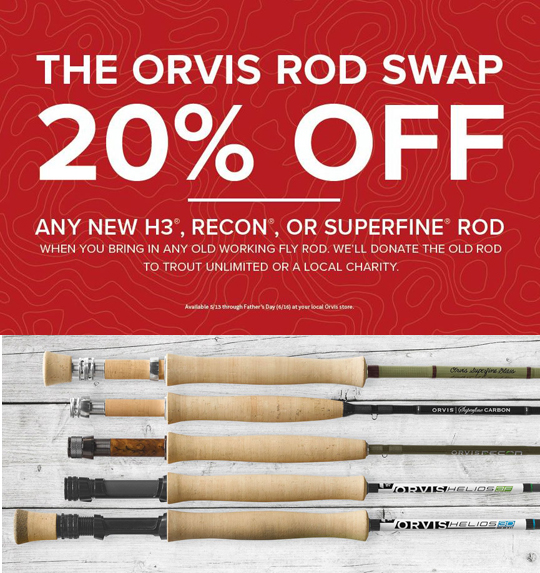 Orvis is doing their Rod Swap promotion again this year. The idea is very simple. Just bring us a functional fly rod and you receive 20% off the regular price of an Orvis Helios3, Recon or Superfine series rod. The rod you bring needs to be in usable condition as it will be donated to a non-profit fishing organization.
The online store won't give you credit for this so if you want to do this via the mail please give us a call and we'll get it all set for you. The promotion begins today and runs all the way till Father's Day. If you want a great rod at a great price this is the perfect opportunity.