If you do not see today's Fishing Report, please refresh your browser to empty your cache.
Welcome to the Fishing Report from Townsend, Tennessee in the Great Smoky Mountains. At 6:53 am, the temperature outside is 69 degrees.
The Knoxville Airport reported rainfall yesterday at .25 inches while in Townsend that number was 28".
More rain is predicted today, tonight and tomorrow, with chances ranging between 60% and 90%. Some thunderstorms may produce heavy rainfall during the period. Sunny skies and cooler temperatures return Tuesday, with highs in the upper 70's through next Friday.
Little River is flowing at 187 cubic feet per second (cfs) or 1.91 feet on the flow gauge. Median flow for this date is 148 cfs. The water temperature is 65.8 degrees this morning at the low elevation Townsend gauge.
Little Pigeon River rose yesterday quickly, but the flow is receding now. Flow is currently 348 cfs, 1.88 feet, compared to median flow of 284 cfs at the Sevierville gauge.
Oconaluftee River has been rising and falling over the past couple of days. Some rain fell in that watershed before midnight but the river is receding now. Current flow at the Birdtown gauge is 551 cfs, 2.03 feet, compared to median flow of 334 cfs.
Tellico River was rising until midnight. Now, it too is receding. Flow is 224 cfs, 1.42 feet, compared to median flow of 166 cfs.
Cataloochee Creek rose sharply night before last, then again last night. The stream is receding now. Flow is 104 cfs, 2.58 feet, compared to median flow for this date of 70 cfs.
Right now, most streams are probably fishable and safe to wade. What we do not know is, what is coming next and where. I can see the mountains clearly from my office window. There is some fog following Little River out of the Park and through town. Everything looks good so far.
Thunderstorms could drop heavy rain in any of the watersheds, causing waters to rise. If you are fishing, be aware that a sudden rise in the water levels is possible, without your prior knowledge. The rain could be falling way upstream. So, keep an eye on the water color and levels today and tomorrow.
There is a chance you may encounter stained water. I don't that that is the case right now, but it could be later.
It is overcast, which is an advantage for us and a disadvantage for the trout. You can sneak up on the fish easier without spooking them on cloudy days.
Nymphs would be my choice this morning and possibly throughout the day. It looks like a good nymphing day out there. I would use any reasonable nymph or a pair of them. Some good choices are Green Weenie, Tellico, Hare's Ear, Prince, and many others.
Dry flies may work. A black foam beetle is a great dry fly to use this time of the year. Also, any yellow pattern, especially those that somewhat mimic a Yellow Sally Stonefly are all good choices.
Lowland river fishing for smallmouth bass and rock bass could be excellent today. That mostly depends on the water clarity. Poppers are an excellent choice, but nymphs and streamers may work well too. Thanks to the cloudy skies, you should be able to fish these rivers all day long and do well, if they are not stained.
Trout fishing in Townsend has been very good. Trout are stocked here and anglers are doing very well catching them.
There is some generation planned today at some dams. Depending on which tailwater you want to fish, and depending on if you plan to wade or drift, there are some opportunities. Check the TVA website to determine where and when to go today.
I say this every Saturday and Sunday, I hate fly fishing the lakes on weekends. However, today would be hard to pass up. It is overcast. Fly fishing in shallow water on cloudy days is excellent, all day long. I would go. I would also fish fairly close to the ramp due to the thunderstorms passing through. Maybe you will get lucky. These storms have been scattered. Maybe they will be scattered today and tomorrow too.
I would try poppers first, for smallies, largemouth bass and sunfishes. If that does not work try something else, maybe a Puglisi Threadfin Shad, Wooly Bugger or Rubber Legged Dragon. If they don't work, go somewhere else on the lake and try different types of shoreline.
There is also a good chance you will find gamefish slaughtering shad in the jumps.
I hope you have a great day and thank you for being here with us.
Byron Begley
June 9, 2019
Respond to: byron@littleriveroutfitters.com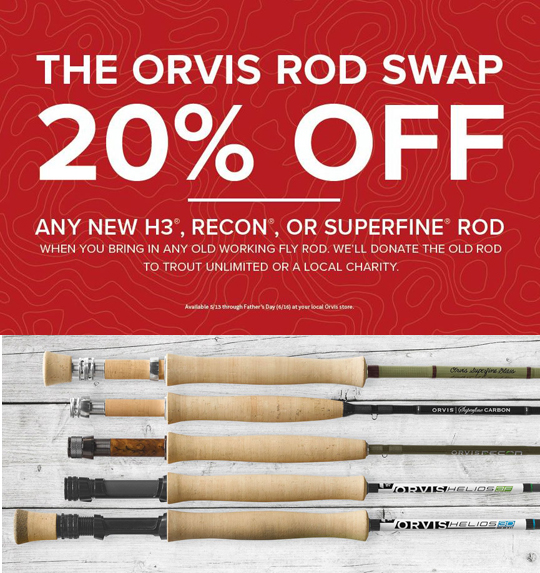 Orvis is doing their Rod Swap promotion again this year. The idea is very simple. Just bring us a functional fly rod and you receive 20% off the regular price of an Orvis Helios3, Recon or Superfine series rod. The rod you bring needs to be in usable condition as it will be donated to a non-profit fishing organization.
The online store won't give you credit for this so if you want to do this via the mail please give us a call and we'll get it all set for you. The promotion begins today and runs all the way till Father's Day. If you want a great rod at a great price this is the perfect opportunity.