If you do not see today's Fishing Report, please refresh your browser to empty your cache.
Welcome to the Fishing Report from Townsend, Tennessee in the Great Smoky Mountains. At 6:31 am, the temperature outside is 71 degrees.
So far, the predicted heavy rain missed the Little River watershed, most of the Smoky Mountains National Park and Townsend. Yesterday, 1.07 inches of rain was reported at the Knoxville Airport. We got .07 inches here. Campbell County, north of Knoxville was deluged by 7 inches of rain this weekend, causing awful flooding there. You can read the story on the WBIR website by CLICKING HERE.
The threat for heavy rain is not over. Later today, we have an 80% chance for showers and thunderstorms, with new rainfall amounts between a quarter and half on an inch possible. Tonight, showers and thunderstorms are likely. There may be high amounts of rain in the thunderstorms. Tomorrow will be mostly sunny with a high temperature around 77 degrees.
Little River is flowing at 144 cubic feet per second (cfs) or 1.75 feet on the flow gauge. Median flow for this date is 154 cfs. The water temperature is 66.7 degrees this morning.
Little Pigeon River is flowing at 342 cfs, 1.87 feet, which compares to median flow for this date of 269 cfs.
Oconaluftee River, at the Birdtown gauge, is flowing at 453 cfs, 1.87 feet, compared to median flow of 338 cfs.
It must be raining near Tellico Plains. Tellico River is rising. Currently, flow is 193 cfs, 1.31 feet, compared to median flow of 162 cfs.
Cataloochee Creek is flowing at 95.5 cfs, 2.54 feet, compared to median flow of 77 cfs.
So far, everything still looks good in the Park. The streams were not blown out at all this weekend. We had beginner fly fishing students on the river yesterday.
Trout will take dry flies and nymphs. David Knapp told me the trout were feeding on top yesterday. I would use a Yellow Sally Stonefly pattern or something similar for my dry fly. Or, try a black foam beetle.
A good nymph choice is still a Green Weenie.
Unless we get heavy rain, fishing will be good in the Smokies again today.
Lowland river fishing is good for trout, smallmouth bass and rock bass. I would use poppers for everything except trout. Otherwise, try nymphs or streamers. A Wooly Booger is a great streamer to use for any species in the lowland rivers.
Many of the dams above the trout tailwaters are generating today. I did see some opportunities on the Caney Fork today. Check the TVA website from the links below to see if your favorite tailwater is fishable.
I think this would be a great day to fly fish on a lake, except for the possibility of thunderstorms. It will be overcast. Try poppers along the banks. You may be able to use them all day today. Streamers may work well too.
Paula and I are pruning trees behind our shop this morning. We got here shortly after 6 am. I talked to our painter this morning. He plans to begin painting our building in a couple of days.
Business has been great at the shop this month. It has been a very good year at LRO.
After the almost non-stop rain we had earlier this year, fishing conditions have improved. Now that we are getting some rain again, stream levels are excellent. I hope that continues.
Have a great day and thank you for being here with us.
Byron Begley
June 10, 2019
Respond to: byron@littleriveroutfitters.com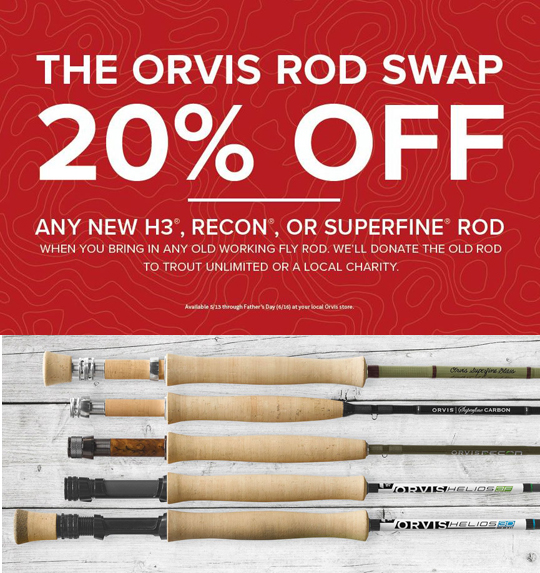 Orvis is doing their Rod Swap promotion again this year. The idea is very simple. Just bring us a functional fly rod and you receive 20% off the regular price of an Orvis Helios3, Recon or Superfine series rod. The rod you bring needs to be in usable condition as it will be donated to a non-profit fishing organization.
The online store won't give you credit for this so if you want to do this via the mail please give us a call and we'll get it all set for you. The promotion begins today and runs all the way till Father's Day. If you want a great rod at a great price this is the perfect opportunity.