If you do not see today's Fishing Report, please refresh your browser to empty your cache.
Welcome to the Fishing Report from Townsend, Tennessee in the Great Smoky Mountains. At 6:28 am, the temperature outside is 62 degrees.
It is beautiful outside my office window this morning. The sun is rising, but partially obscured by clouds toward the Smoky Mountains. The sky is clearing elsewhere. Almost a half of an inch of rain fell yesterday in Townsend. Everything is green and lush. It is ten degrees cooler that it was at this time yesterday morning.
This is going to be a very nice week to be fishing in the Smokies.
It will be cool, with highs in the 70's and lows in the 50's through Friday. We'll see some warming this weekend. We may see more rain at times, especially Wednesday and Thursday. The chance for rain is 50% both days.
The streams have been re-charged with water and that trend should continue through late June according to the long term weather forecast.
Little River is flowing at 279 cubic feet per second (cfs) or 2.18 feet on the Townsend gauge. Median flow for this date is 155 cfs. The water temperature is 65.1 degrees this morning.
Little Pigeon River is flowing fairly high at 639 cfs, 2.34 feet, compared to median flow of 253 cfs at the Sevierville gauge.
Oconaluftee River at Birdtown is flowing at 601 cfs, 2.10 feet, compared to median flow of 364 cfs for this date.
Tellico River is receding. Flow at the Tellico Plains gauge is 224 cfs, 1.42 feet, which compares to median flow of 159 cfs.
Cataloochee Creek is flowing at 93.4 cfs, 2.53 feet, compared to median flow of 73 cfs.
The streams in the Park are all flowing well, especially for this time of the year. Water temperatures will be perfect for several days. It will be very comfortable in the mountains. Go if you can.
Dry flies and nymphs will work. I would probably start with dry flies or a dry and a dropper. A black foam beetle with a Green Weenie dropper sounds great to me. Other good dry fly choices are, Yellow Neversink Caddis, Yellow Stimulator, Yellow Elk Hair Caddis, Rob's Hellbender or any Yellow Sally Stone imitation.
The trout will be looking for food. Fly pattern choices are not as important as stealth and presentation.
The lowland rivers should be in good shape for the most part. Some are likely flowing high, limiting your wading space. But, the smallmouth bass will be eager to take your fly. Go early or late since it will be sunny today. Or stay all day and fish the shaded areas of the streams.
You might want to fish a tailwater, if you can find an angler friendly dam release schedule. Some are flushing water around the clock. Others are not. Visit the TVA website to determine your options.
Fly fishing on some of the lakes is good. Go early or late. Poppers will work. Streamers may work as well or better. Cast to the shaded banks. Watch for gamefish feeding on shad schools early and late when the sun is off the water.
Shad follow sun-sensitive plankton to the surface to feed. Gamefish follow the shad. Those are magical times on the lakes.
Paula will be here in a few minutes. We are working on the landscaping at the shop. A painting crew will paint the building over the next few days. Like yesterday, I am here early writing the report. Then, she and I will work outside. I'll go home to shower and come back to the store to work through the day. Our hard work is paying off. The outside of the store looks great.
We built this building, specifically to be a fly shop and fly fishing school. That is rare. I only know of one other, located in Colorado. There may be a few more. We bought the land and spent a year planning and building this place. We moved the store here over 15 years ago. My only regret is not making it larger. We have about seven thousand spare feet in this building. Ten thousand would be nice.
At this point, we'll just live with what we have.
Have a great day and thank you for being here with us.
Byron Begley
June 11, 2019
Respond to: byron@littleriveroutfitters.com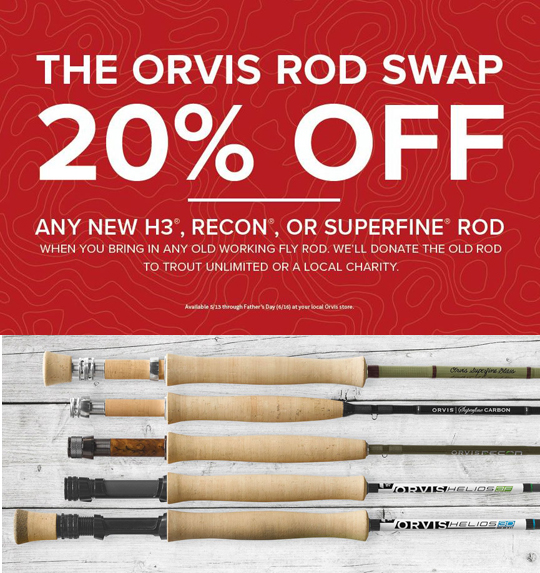 Orvis is doing their Rod Swap promotion again this year. The idea is very simple. Just bring us a functional fly rod and you receive 20% off the regular price of an Orvis Helios3, Recon or Superfine series rod. The rod you bring needs to be in usable condition as it will be donated to a non-profit fishing organization.
The online store won't give you credit for this so if you want to do this via the mail please give us a call and we'll get it all set for you. The promotion begins today and runs all the way till Father's Day. If you want a great rod at a great price this is the perfect opportunity.