If you do not see today's Fishing Report, please refresh your browser to empty your cache.
Welcome to the Fishing Report from Townsend, Tennessee in the Great Smoky Mountains. At 6:25 am, the temperature outside is 61 degrees.
I left home to drive to the shop at about 6:10 am. That has been normal for me lately. But, it was still dark at dawn. What we have is complete and light blocking cloud cover and the clouds should remain all day.
It is going to remain cool through Friday, with lows in the upper 50's to 60 degrees and highs during the day in the low to mid 70's. There is a slight chance for showers today and possibly a thunderstorm. The chance for thunderstorms increase tonight. Tomorrow through Saturday will be sunny. We have a low chance for thunderstorms Sunday.
Little River is flowing at 170 cubic feet per second (cfs) or 1.85 feet on the flow gauge. Median flow for this date is 155 cfs. The water temperature is 64.4 degrees.
Little Pigeon River is flowing at 445 cfs, 2.04 feet, compared to median flow of 300 cfs.
Oconaluftee River is flowing slightly above median flow at 419 cfs. Median flow for this date is 370 cfs. The water temperature at the Birdtown gauge is 60.8 degrees.
Tellico River is flowing at near normal, 161 cfs, 1.19 feet, compared to median flow of 153 cfs.
Cataloochee Creek looks about the same as the others, flowing at 81.2 cfs compared to median flow of 76 cfs. The water temperature there is 57.6 degrees.
We have excellent conditions today for trout fishing in the Great Smoky Mountains. Water levels are normal. Water temperatures are good. And, it is going to be overcast today. You may see Yellow Stonefly action today, especially later. Fishing should be epic. But, you never know for sure.
Dry fly fishing should be very good today. I would use either a foam beetle, or a Yellow Sally Stonefly imitation for my dry. Nymph fishing should be very good too. A Green or Pink Weenie is an excellent choice for your subsurface fly.
Lowland River fishing for trout in Townsend, and smallmouth bass just about everywhere will be good today. I would use nymphs or streamers for the stocked trout in town. I would have to use poppers for the smallmouth bass and rock bass because I love poppers.
What a beautiful lake fishing day this is. I wish I were not working today. Don't get me wrong, I love work. But, I hate to miss an excellent lake fishing day like this one. You should be able to catch fish on poppers all day, if the clouds remain. You may also see schools of shad on the surface with gamefish slurping them down. I tie Puglisi Shad for those wonderful times.
This would be a great tailwater fishing day if the flows are not too high. Some are. Again, the Caney Fork looks good. Cherokee and Douglas Dams are running full bore today. They are generating and sluicing at Norris Dam. Wolf Creek Dam in Kentucky is running off and on today. Visit the TVA website to check the generation schedule at your favorite tailwater and make a decision.
The future of the swinging bridge that spans Little River from Townsend to Dark Island is a big question right now. The bridge is closed. It is in need of minor repairs. Our swinging bridges were wiped out during the flood of 1994. A grant allowed the County to rebuild three of them. We were all happy to have the new bridges again.
Now, nobody knows for sure who owns the bridges and who is responsible for maintaining them. There is even talk about dismantling the Dark Island Bridge.
You can read the story and watch the video on the WBIR website by CLICKING HERE.
Paula will be here in a few minutes and we hope to finish the tree trimming and landscape work we are doing around our building. We have a 30 cubic yard dumpster we are using to put our trimmings in. It is almost full. She and I have been climbing in the dumpster, with the help of a ladder, and jumping up and down on the limbs to pack them down.
I know, I am almost 68 years old. Should I be jumping up and down in a dumpster? Heck yes. It's fun.
Also, our painters will start prepping to paint the building today.
I am looking at some maple trees to buy and plant along the street in front of our shop. I know, there is a water line out there. I'll check with Lynn at the water department first. What I would like to do is shade the parking lot during the late afternoon hours, during the Summer. The trees I found online are hybrids and they display vivid bright red leaves during the Fall. The trees I found are about 7 feet tall and they grow fast. We'll see how that works out.
Hey, it is raining! The rain is light right now.
Have a great day and thank you for being here with us.
Byron Begley
June 12, 2019
Respond to: byron@littleriveroutfitters.com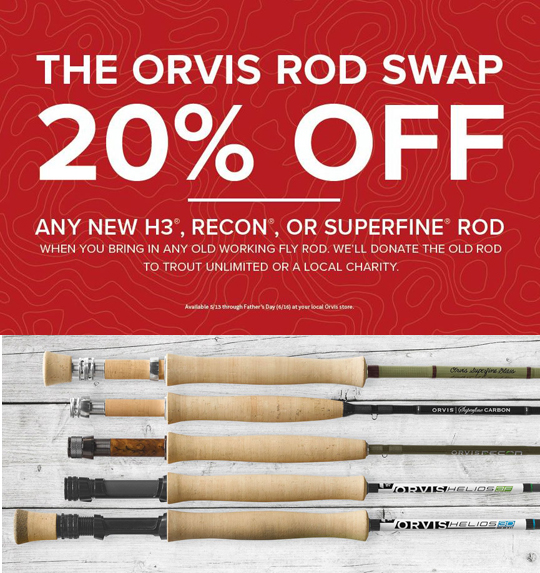 Orvis is doing their Rod Swap promotion again this year. The idea is very simple. Just bring us a functional fly rod and you receive 20% off the regular price of an Orvis Helios3, Recon or Superfine series rod. The rod you bring needs to be in usable condition as it will be donated to a non-profit fishing organization.
The online store won't give you credit for this so if you want to do this via the mail please give us a call and we'll get it all set for you. The promotion begins today and runs all the way till Father's Day. If you want a great rod at a great price this is the perfect opportunity.