If you do not see today's Fishing Report, please refresh your browser to empty your cache.
Welcome to the Fishing Report from Townsend, Tennessee in the Great Smoky Mountains. At 7:23 am, the temperature outside is 64 degrees.
Rain fell beginning at 4:30 this morning. We got .31 inches in Townsend.
Today will be beautiful, sunny and cool. It may be breezy at times. Tonight will be chilly. The predicted low temperature tonight is 51 degrees. Tomorrow will be sunny with a high in the upper 70's. Saturday looks good, sunny with a high of 81 degrees. Rain returns Sunday night.
That does not seem to have affected Little River very much yet. Little River is flowing at 170 cubic feet per second (cfs) or 1.85 feet on the flow gauge. Median flow for this date is 162 cfs. The water temperature is 64.2 degrees this morning.
Little Pigeon River is rising slowly, probably due to the rain that fell here early this morning. Flow is currently 382 cfs, 1.94 feet, compared to median flow of 276 cfs.
Oconaluftee River is flowing steady at 387 cfs, 1.75 feet, compared to median flow of 364 cfs.
Tellico River is flowing at 158 cfs, 1.18 feet, compared to median flow for this date of 119 cfs.
Flow at Cataloochee Creek is steady at 79.3 cfs, 2.46 feet, compared to median flow of 74 cfs.
So, everything looks good in the Smokies today. Flows are normal. Water temperatures are fine. Trout are feeding. Anglers are doing very well.
Dry flies are working. Danny told me he caught over 25 trout, day before yesterday on an Adams dry fly. He is an excellent fly fisherman. Other good dry fly patterns are those that mimic a Yellow Sally Stonefly or a Black Foam Beetle. For your sub-surface fly, a Green Weenie is hard to beat.
Dress to blend with the forest, stay as low as you can to avoid being seen by the trout, and make a good presentation with a good drift. You will catch trout today. Also, you may want to concentrate on the shaded areas during midday.
Lowland river fishing is good for trout and smallmouth bass. Go early or late when the sun is off the water or fish the shaded areas of streams during the day. Poppers and streamers will work for the smallies. Try nymphs or streamers for trout.
Most of the trout tailwaters will be flowing high today. The Caney Fork below Center Hill Dam appears to have a good generation schedule today. Check the TVA website and make the call yourself before going.
Some lakes are fishing well for smallmouth bass, largemouth bass and panfish. I would use poppers early or late. When the sun is on the water the gamefish will be deeper or hiding in cover. They may be out of range for those of us who fish with fly rods when the sun is on the water.
The guys are painting our building. They are out there now with a bucket lift. I am glad they are not trying to do this with ladders. They spent all day yesterday prepping with bleach. This will take a few days. I am excited about the way things are looking around here. Paula and I worked many mornings on the landscaping, including planting lots of flowers. The 30-yard dumpster is packed with limbs. It should be hauled away today or tomorrow.
Then it will be returned and we will begin de-crapping the interior of the shop. I'm looking forward to that too.
A bunch of fly tying material and hook orders will be arriving today and tomorrow. Receiving and displaying that will keep me busy until Sunday. Then, I will re-order again. Our fly tying department sales are better than they have been in years. Weekly re-stocking is the key. Our hackle wall never looked better.
A lot of customers are buying Hanak competition hooks and beads to tie Euro style flies. I'm going to start doing that myself soon. That is the rage right now. Also, we are selling many Syndicate competition nymphing fly rods. I think we sold 4 last week. I can't remember the numbers for the year but they are high.
We are having trouble getting Sunset Amnesia leader material from our distributors. These materials are used to make the lines and sighter leaders for Euro nymphing. I called the manufacturer and ordered a good supply from them. They probably shipped yesterday. We will stock 25 pound clear Amnesia to use for your fly line. And, we'll stock the 15 pound test in the colors bright geen and red, for "sighters". Sighter is the name for short pieces tied into the leader above the tippet, so it is easier to detect a strike. Below the sighters is your tippet, which is usually fluorocarbon.
Anglers who compete in national and international competitions, have figured out many different flies and rigging techniques that we can all use when nymphing for trout. The Syndicate rods are designed for nymphing and they are perfect for nymph fishing whether you are competing or not. I am getting one for my birthday next month.
Have a great day and thank you for being here with us.
Byron Begley
June 13, 2019
Respond to: byron@littleriveroutfitters.com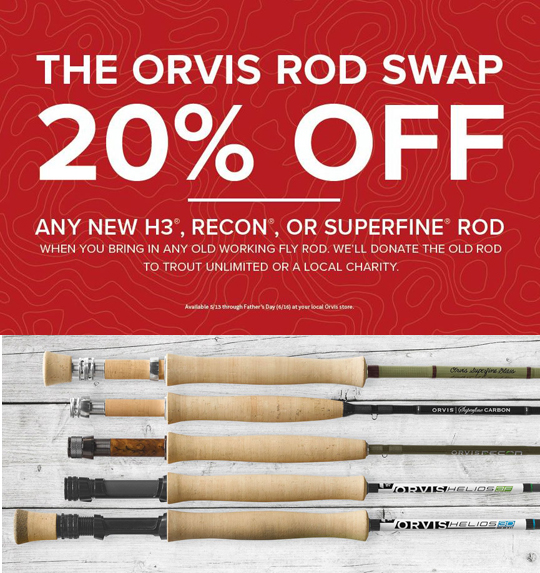 Orvis is doing their Rod Swap promotion again this year. The idea is very simple. Just bring us a functional fly rod and you receive 20% off the regular price of an Orvis Helios3, Recon or Superfine series rod. The rod you bring needs to be in usable condition as it will be donated to a non-profit fishing organization.
The online store won't give you credit for this so if you want to do this via the mail please give us a call and we'll get it all set for you. The promotion begins today and runs all the way till Father's Day. If you want a great rod at a great price this is the perfect opportunity.