If you do not see today's Fishing Report, please refresh your browser to empty your cache.
Welcome to the Fishing Report from Townsend, Tennessee in the Great Smoky Mountains. At 7:01 am, the temperature outside is 50 degrees.
It is very foggy and it feels like Fall.
Today will continue to feel like Fall, with a high temperature in the upper 70's and a low tonight in the 50's. It will be warmer tomorrow, and sunny. Expect a high in the mid 80's dipping to the mid 60's tomorrow night. Sunday will be about the same but there is a slight chance for thunderstorms. Rain is back in the forecast Monday and through the week. The rain chances are about 50% each day through Thursday.
Little River is flowing at 134 cubic feet per second (cfs) or 1.71 feet on the flow gauge. Median flow for this date is 156 cfs. The water temperature is 61.5 degrees this morning.
All streams in the Park that have USGS gauges are flowing at or slightly below median flow for this date.
Look at the water temperature in Little River. That is perfect, especially for almost mid-June. The weather outlook is "pro angler" now and that should continue through next week, unless the rain misses us somehow.
Fishing is very good in the Smokies. Everyone I have talked to has been doing well.
Trout are taking dry flies and nymphs. I would use a black foam beetle, or a Yellow Sally Stonefly imitation for my dry flies. But, anything reasonable will work. Off my dry I would drop a Green Weenie. I saw one of the guides who had rigged for his clients yesterday. One rod had a black foam beetle and a Green Weenie dropper. Most people who fish here often know that is a very good combination during the Summer months.
Lowland River fishing should be good, early or late. You may also do well if you fish during the sunny hours, if you concentrate on shaded water. Use poppers for bass and nymphs or streamers for trout.
Fly fishing on the lakes is good, early and late, unless you pick a cloudy day. With good cloud cover, the fish can be found in shallow water, where we like to fish with flies. Poppers and streamers will work.
It looks like around the clock generation will keep the Holston below Cherokee Dam flowing high today. High flows on the French Broad are predicted today. The Clinch below Norris Dam was flowing low until a little while ago. They will be generating with two units today beginning in about 30 minutes.
The Caney Fork might be a good option today for our Middle Tennessee friends. And it looks like they will be turning on multiple turbines at Wolf Creek Dam on the Cumberland in Kentucky shortly.
Check the TVA website from the links below to make a decision on where and when to fish your favorite tailwater.
The guys are painting our building. They were here when I went home yesterday and they beat me here this morning. They are doing a great job. The entrance will be painted last and the work will be done before and after we close. We can't wait to see that. It will be painted the lighter color on the posts and inside.
I am receiving and putting out merchandise in the fly tying department today and probably tomorrow.
An order from Natures Spirit arrived yesterday. In it are spools of Lagartun tinsels. These tinsels are made in France and they are excellent for tying flies when only the best will do. I didn't order everything they make yet, but the selection is good. I'll add more later after we see how popular these tinsels are. They are not cheap! Serious fly tyers think they are worth the extra cost.
I will get them received and out sometime this weekend.
I hope you have a great day and thank you for being here with us.
Byron Begley
June 14, 2019
Respond to: byron@littleriveroutfitters.com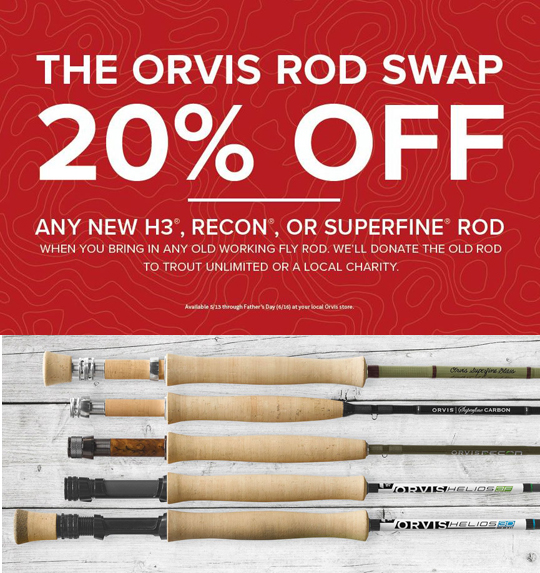 Orvis is doing their Rod Swap promotion again this year. The idea is very simple. Just bring us a functional fly rod and you receive 20% off the regular price of an Orvis Helios3, Recon or Superfine series rod. The rod you bring needs to be in usable condition as it will be donated to a non-profit fishing organization.
The online store won't give you credit for this so if you want to do this via the mail please give us a call and we'll get it all set for you. The promotion begins today and runs all the way till Father's Day. If you want a great rod at a great price this is the perfect opportunity.