If you do not see today's Fishing Report, please refresh your browser to empty your cache.
Welcome to the Fishing Report from Townsend, Tennessee in the Great Smoky Mountains. At 6:58 am, the temperature outside is 55 degrees.
Yesterday at this time the temperature was 50 degrees. It is warming up a little.
Today will be mostly sunny and warmer, in the low 80's here in the valley. Tonight will be warmer than it has been, dipping only to the mid 60's. Tomorrow will be mostly sunny and warm, with a slight chance for thunderstorms in the afternoon. Rain returns Monday, with a good chance for scattered thunderstorms every day through next weekend.
These Summer scattered thunderstorms keep our streams in great shape over the long haul. There may be times of high water temporarily. And that may happen in one watershed but not another. July is our second wettest month of the year falling in barely below May. July is historically our hottest month of the year.
Little River is flowing at 119 cubic feet per second (cfs) or 1.65 feet on the flow gauge. Median flow for this date is 154 cfs. The water temperature is 62.4 degrees this morning.
Fishing is good in the Smoky Mountains. All the streams in the Park are flowing at or slightly below normal. Water temperatures are excellent. But, we may see them climb near 70 degrees this weekend. I would fish the mid to high elevations. Try upper Middle Prong of Little River. Or fish the East Prong above Metcalf Bottoms to Elkmont and further upstream. Lynn Camp Prong, Thunderhead Prong are good choices. West Prong of Little River may be cool especially further into the backcountry.
If you go early, the water should be fine in the low elevations. You could start there then move upstream later where the water is cooler.
We are in the midst of tourist season. You will find crowds of swimmers and rock skippers along the main roads. A short hike into the backcountry will offer you a more enjoyable fly fishing experience. A long hike would be even better.
Stay hidden from the trout. The streams are flowing normal but normal in June is fairly low. Dress to blend with the forest. Wade only as much as you have to. Sneak around and hide. You will catch more trout.
During the Summer, the large hatches of aquatic insects we see in the Spring have slowed. But, the trout are looking up for a meal, so dry fly fishing is good. Trout seek out anything edible that is reasonable or believable. Terrestrials are a good choice for a dry or sub-surface fly. Black foam beetles with a Green Weenie dropper should be considered.
Presentation is more important than the fly pattern you choose. Get a good drift and don't spook the trout by landing your fly line on top of them. Let them see your fly and tippet, but nothing else and you will succeed.
Lowland river fishing for smallmouth bass, rock bass and trout will be best early and late. You can fish the shaded banks at midday if they are available on the river you choose. I would use poppers for the bass and nymphs or streamers for the trout.
Go to the lake early or late. Poppers, streamers and Rubber Legged Dragons are what I would use. Of course, I would use a Knucklehead, my favorite lake fly.
Some dams are giving us high water today while others are not. Visit the TVA website to see if the generation schedules work with yours and your type of fishing, wading or boating.
I am really encouraged about the fly fishing possibilities over the next two weeks, because of the predicted weather.
The painters are out there now putting the first coat on the entrance overhang. They will be out of the way before opening time at 9:00 am. Then, they will put another coat on after we close tonight or before we open early tomorrow. They are doing a great job.
The metal fire escape was coated last night with a 2-part epoxy clear finish. After that dries, they will paint it. They will be painting doors today. They should be finished late tomorrow or Monday. Then, I get to write the big check.
Bill, our lawn maintenance man mows every week during the growing season. He and I worked out a plan for our grass, which includes, lime, aerating, fertilizer and over seeding. He will do that next week. We plan to follow up with more improvements this Fall and next Spring.
Have a great day and thank you for being here with us.
Byron Begley
June 15, 2019
Respond to: byron@littleriveroutfitters.com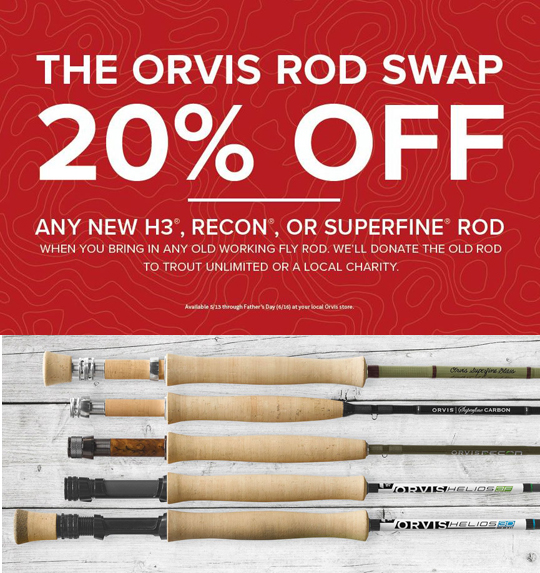 Orvis is doing their Rod Swap promotion again this year. The idea is very simple. Just bring us a functional fly rod and you receive 20% off the regular price of an Orvis Helios3, Recon or Superfine series rod. The rod you bring needs to be in usable condition as it will be donated to a non-profit fishing organization.
The online store won't give you credit for this so if you want to do this via the mail please give us a call and we'll get it all set for you. The promotion begins today and runs all the way till Father's Day. If you want a great rod at a great price this is the perfect opportunity.