If you do not see today's Fishing Report, please refresh your browser to empty your cache.
Welcome to the Fishing Report from Townsend, Tennessee in the Great Smoky Mountains. At 6:56 am, the temperature outside is 71 degrees.
Happy Father's Day Dads!
Yesterday at this time, the temperature was 55 degrees. It is definitely warming.
Today will be mostly sunny with a high temperature in the mid-80's. Thunderstorms are likely Monday through Thursday. Highs will be in the low 80's with lows in the upper 60's throughout the period.
The streams are getting fairly low again, which is normal this time of the year. Rain will fix that, hopefully. We usually see the streams rise up and down during the Summer thanks to scattered afternoon thunderstorms. And, one watershed may be affected by the storms, while others are not. It looks like we'll have plenty scattered thunderstorms this week.
Little River if flowing at 107 cubic feet per second (cfs) or 1.60 feet on the flow gauge. Median flow for this date is 156 cfs. The water temperature is 65.7 degrees this morning.
We may see the water temperatures rise to 70 degrees today at the Townsend gauge and at some very low elevations. If you plan to fish the lowest elevation streams, go early then move higher later, where the water will be cooler.
Fishing in the Smokies is good. The trout are spooky due to the low flows. Dressing to blend in with the forest is of the utmost importance right now. That may change some when we see the flows rise this week, if it happens.
Let the trout see your fly and not your fly line. The trout will be hiding in the riffles and plunge pools. Dry flies are working well. A foam beetle pattern is a good choice. Others are Yellow Stimulator or a Yellow Neversink Caddis.
I would drop a Green Weenie off your dry fly, either a bead head or non weighted version.
Anglers have been catching trout in town. Tubing activity is heavy right now so go early or late.
You can find some fly fishing opportunities on some tailwaters. I like what I'm seeing on the Clinch and Caney Fork this morning. Check the TVA website to see if your favorite tailwater generation schedule works for you.
If you plan to fly fish on the lakes, you should have been there at daybreak. Or, wait and go late today when the sun is off the water.
Lowland river fishing is fair. Higher water and a cloudy day would make fishing better. Go early or late, or fish the shaded areas of the stream. Poppers will work for smallmouth bass and rock bass. Streamers and nymphs will catch trout, where they are stocked.
We are busy at the shop. We had the best business day yesterday, that we have had all year. June will likely set a monthly sales record, based on over 24 years we have owned this business. I am working 7 days a week and enjoying every minute of it.
Mike Wheeler and Mr. Myers are almost finished painting our building. It looks great. They are meticulous. So am I. I don't think I am that meticulous.
If it doesn't rain, Paula comes by the shop to water the flowers every day. She will do that today, probably at about 7:30. I get here at about 6:45 am. We are early risers, getting up at 5:00 am every morning.
Mike and Mr. Myers beat me here again this morning. They had probably been working for a while.
Have a great day and thank you for being here with us.
Byron Begley
June 16, 2019
Respond to: byron@littleriveroutfitters.com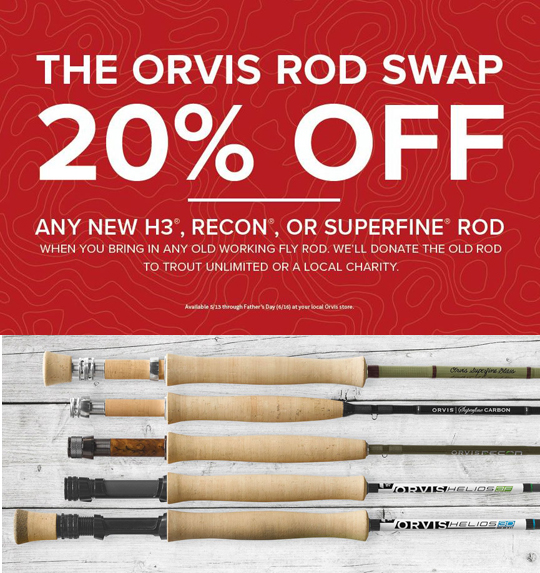 Orvis is doing their Rod Swap promotion again this year. The idea is very simple. Just bring us a functional fly rod and you receive 20% off the regular price of an Orvis Helios3, Recon or Superfine series rod. The rod you bring needs to be in usable condition as it will be donated to a non-profit fishing organization.
The online store won't give you credit for this so if you want to do this via the mail please give us a call and we'll get it all set for you. The promotion begins today and runs all the way till Father's Day. If you want a great rod at a great price this is the perfect opportunity.