If you do not see today's Fishing Report, please refresh your browser to empty your cache.
Welcome to the Fishing Report from Townsend, Tennessee in the Great Smoky Mountains. At 5:16 am, the temperature outside is 39.7 degrees.
Today will be partly sunny with a high temperature in the mid-50's. We have a slight chance for rain this afternoon and tonight. Tomorrow will be sunny, with no chance for rain and a high in the mid-50's. Thursday will be much warmer, with a high in the mid-60's and a low in the upper 40's. Rain arrives in the valley Friday, lasting through Saturday.
Little River is flowing at 105 cubic feet per second (cfs) or 1.58 feet on the gauge. Median flow for this date is 150 cfs. The water temperature is 45.9 degrees this morning.
Most streams in the Smokies are now flowing below normal. Water temperatures are fairly warm, especially in the lower elevations. We'll see the temps rise further Thursday and Friday and fishing should improve.
I would wait a while before going fishing today, to give the streams a chance to warm further. I would also fish in the lower elevations where the water is warmer and the trout are more active.
Nymphs would be my first choice. My favorites are always Tellico, Pheasant Tail, Prince and Hare's Ear patterns. Other nymphs choices may work as well or better. You can use bead head nymphs, but I would prefer those without shiny beads as the water is low and clear. A better choice may be those without beads, and use split shot to get the nymphs down. You could use a strike indicator, or better yet, high stick without one.
There is always a chance for a blue wing olive hatch this time of the year. So, be prepared for that with dry flies and emergers.
I talked to some guys yesterday who were staying in Gatlinburg and fishing the stocked waters there. They said they were seeing plenty of trout, but the fish would not take their flies. They were using nymphs. I suggested they try Squirmy Worms (Pink) or small Wooly Buggers. I don't know if that worked. I hope so. Those trout have probably seen a lot of human activity lately. And, the water is not exactly within the trout's preferred temperature range. That may change later this week.
I checked and didn't see many angler friendly flows on the area trout tailwaters today, unless you are boating. Visit the TVA website from the links below and see what you think. Maybe you can work with their schedules.
I spent much of yesterday ordering fly tying materials, something I do every Monday. What I ordered yesterday will be in the shop Thursday. That department has been busy!
If you see smoke in Cades Cove, don't be alarmed. The Park Service is conducting prescribed burns today and tomorrow. More burns are expected later. This practice keeps the fields free from forest growth, allowing native grasses to remain. The Abrams Falls trail may be closed temporarily at times.
I can't believe Thanksgiving is next week. Where did the year go? We will be seeing many visitors next week in Townsend. A lot of people will be camping in the Park too. I hope the weather is decent for everyone. We should see high temperatures in the 50's with lows in the 30's to 40's next week. There is a chance for rain every day, though I don't see a deluge in the long term forecast so far.
Some years, we get snow during Thanksgiving week. I don't think that is going to happen this year.
The Fishing Report archived reports, I have on my computer, date back to 2007. I think this report was actually born in 2006. Daniel or I have been writing this report daily for a long time. I remember only one day, we had a mix-up and the report was not written. Other than four holidays per year and that day, the report has been published for you every day for about 13 years.
Back in the old days, we would drive to the Park every morning to view the flow gauge and take the water temperature. We had a paper chart that converted the gauge reading to cfs. It was not accurate, but then, it was the only option. That was done every day. I really enjoyed that way to start my day, on the banks of Little River. Now, of course, we can get that information online and now we can have this report available for you earlier.
I don't check the number of readers anymore. I can safely say, this report has been read millions of times.
There will not be a Fishing Report written on Thanksgiving day. I think I'll sleep in.
Have a great day and thank you for being here with us.
Byron Begley
November 19, 2019
Respond to: byron@littleriveroutfitters.com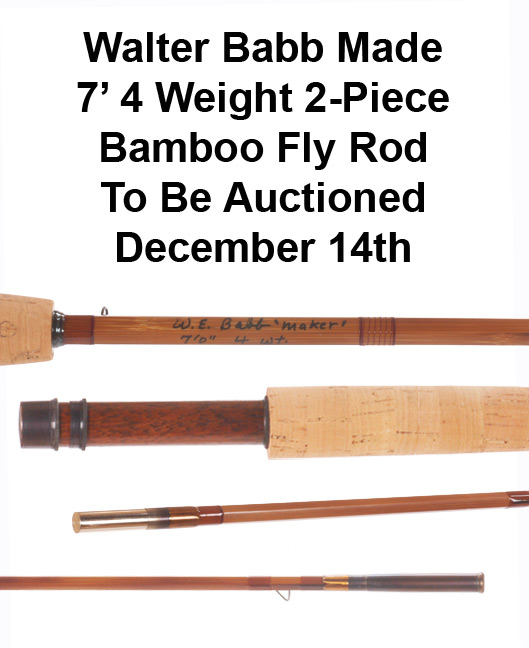 A bamboo fly rod made by Walter Babb and 10 dozen flies tied by him will be auctioned off on Saturday December 14th at about 5:30 to 6:00 pm. This auction benefits the Needy Family Fund of Sweetwater Tennessee. This organization is made up of 20 area churches and raises money to buy food for families in need for Christmas. The auction will be held at the Sweetwater Primary School located at 500 Highway 322 East in Sweetwater.

You do not have to be present to bid on the rod or the flies. Call Phil Roy beforehand, at 423-337-1212 to register. You will be given several phone numbers to call in your bid during the live auction.
Below is what Walter told me about these auction items:
"The rod I made for the Needy Family Auction this year is a seven foot, 2 Piece, 4-weight Wayne Cattanach taper. Wayne is the author of Handcrafting Bamboo Fly Rods, one of the teaching books for me. This is a flamed single tip rod with a Hormigo Negro wooden spacer. In Spanish it is called an ant tree. Reel seat, spacer and ferrules are made by Baily Wood of Classic Sporting Enterprises. Also, the rod bag and rod tube are made by REC.
The box of flies are 10 dozen of my favorite nymphs. They include, three types of Tellico Nymphs, the Gray Squirrel nymph, George Nymph, Bead Head Peasant Tail, Atherton's Medium Nymph, Bead Head Prince Nymph and Mr. Rapidan Emerger. This is my core group of nymphs that I use in the Great Smoky Mountains National Park, Cherokee National Forest and in Western North Carolina. I carry a few others for special occasions or hatches."