If you do not see today's Fishing Report, please refresh your browser to empty your cache.
Welcome to the Fishing Report from Townsend, Tennessee in the Great Smoky Mountains. At 5:12 am, the temperature outside is 35.4 degrees.
Today will be warm, with a high temperature around 67 degrees, dropping to the upper 40's tonight. The rain will likely begin tonight. Rain is likely Friday. The high temperature will be around 60 degrees, dropping to 52 degrees Friday night. Saturday will be warm, with more rain expected. Rain may be heavy. Most weather websites are predicting between one and two inches of rain through Saturday and more than that is possible.
Little River is flowing at 98.1 cubic feet per second (cfs) or 1.55 feet on the flow gauge. Median flow for this date is 170 cfs. The water temperature is 46.2 degrees this morning. Yesterday, that number reached 48 degrees.
Water temperatures are trending up and fishing has improved. I talked to one customer yesterday who did very well. Guides David Knapp and Rob Fightmaster fished the Park yesterday with clients. I did not hear back from them.
I'm going to call for good fishing today and possibly tomorrow. If the rain is somehow lighter than expected, fishing will probably be good Saturday too. If we get one to two inches of rain or more, the streams will be flowing very high and fishing will be slow at some point. That may be Friday or Saturday.
If I were traveling to the Smokies, just to fish this weekend, I would check the water levels later tomorrow before leaving. You may be taking a chance on finding high water late Friday and Saturday.
I would plan on using nymphs. My favorite nymph patterns are always Tellico, Pheasant Tail, Prince and Hare's Ear. There is a chance you may find trout feeding on the surface, during a blue wing olive hatch, especially tomorrow and Saturday, depending on how much rain we get.
We do need some rain. The streams have fallen some. Historical flows that we compare to daily are rising.
Fishing has been good on some of the tailwaters. I saw the photo of a big brown trout, one of David Knapp's clients caught Tuesday on the Clinch River. The brown was caught on a #20 midge tied on a barbless hook. This particular client likes to use his own flies. David didn't know the tiny midge was on a barbless hook until it was in the net. What a great catch!
Check the TVA website from the links below to see if you can work with their generation schedules.
I spent some time with Jack yesterday. He has been going to the Park to watch the brown trout spawn. He loves watching them. He is anticipating the end of the spawn, so he can start fishing for them. He would never intentionally catch a spawning trout. Jack is one of the most ethical people I have met.
December and January are his favorite fishing months in the Smokies. Jack is the best fisherman I have ever fished with. He always catches more fish than I do and I don't mind a bit. We have chased a lot of different species together, from bluegill to tarpon. Jack has been one of my best friends for a long time.
I have not fished much at all this year because I have been working 7 days a week. I did fish every day for three weeks this Spring, when Paula and I were in Florida. After that, it's been work for me. We are having a very good year at the shop. Hard work pays off. You probably know, work is my favorite hobby. I have always been that way, since I opened my first business in 1973.
I took off from work for five years, after selling a company, and I was bored to death. That is why we got into the fly fishing business almost 25 years ago. The goal was to give me something to do. That goal was achieved, for sure. I plan to work at LRO until the last day.
Have a great day and thank you for being here with us.
Byron Begley
November 21, 2019
Respond to: byron@littleriveroutfitters.com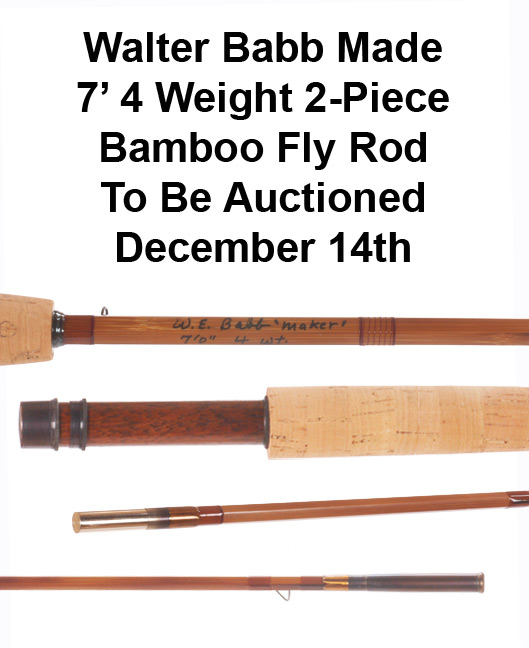 A bamboo fly rod made by Walter Babb and 10 dozen flies tied by him will be auctioned off on Saturday December 14th at about 5:30 to 6:00 pm. This auction benefits the Needy Family Fund of Sweetwater Tennessee. This organization is made up of 20 area churches and raises money to buy food for families in need for Christmas. The auction will be held at the Sweetwater Primary School located at 500 Highway 322 East in Sweetwater.

You do not have to be present to bid on the rod or the flies. Call Phil Roy beforehand, at 423-337-1212 to register. You will be given several phone numbers to call in your bid during the live auction.
Below is what Walter told me about these auction items:
"The rod I made for the Needy Family Auction this year is a seven foot, 2 Piece, 4-weight Wayne Cattanach taper. Wayne is the author of Handcrafting Bamboo Fly Rods, one of the teaching books for me. This is a flamed single tip rod with a Hormigo Negro wooden spacer. In Spanish it is called an ant tree. Reel seat, spacer and ferrules are made by Baily Wood of Classic Sporting Enterprises. Also, the rod bag and rod tube are made by REC.
The box of flies are 10 dozen of my favorite nymphs. They include, three types of Tellico Nymphs, the Gray Squirrel nymph, George Nymph, Bead Head Peasant Tail, Atherton's Medium Nymph, Bead Head Prince Nymph and Mr. Rapidan Emerger. This is my core group of nymphs that I use in the Great Smoky Mountains National Park, Cherokee National Forest and in Western North Carolina. I carry a few others for special occasions or hatches."