If you do not see today's Fishing Report, please refresh your browser to empty your cache.
Welcome to the Fishing Report from Townsend, Tennessee in the Great Smoky Mountains. At 5:09 am, the temperature outside is 54.1 degrees.
A quarter of an inch of rain fell in Townsend yesterday. We are getting very heavy rain right now that started at about 4:00 am.
We can expect heavy rain today with a high temperature around 60 degrees. New precipitation amounts between three quarters and one inch is possible. Winds will be gusty in and around the Smoky Mountains today. Rain is expected tonight, with snow being a possibility in the higher elevations as temperatures plunge to the mid-30's in the foothills, with colder temps in the mountains.
Tomorrow will be partly sunny and cool, in the low 50's.
Little River is flowing at 117 cubic feet per second (cfs) or 1.63 feet on the flow gauge. Median flow for this date is 173 cfs. The water temperature is 51.1 degrees this morning.
Fishing is good thanks to the warmer streams. I talked to a customer yesterday who said he caught more brown trout than he ever had before in Little River. Brown trout are spawning and active. He was catching the smaller fish that are too young to spawn.
If you go today, take a rain jacket. You will need it. Some streams are rising already. They will all be rising today. They may become temporarily stained. Though fishing is probably going to be good early, the heavy rain may put a damper on it. Watch for quickly rising water.
If somehow the heavy rain misses the watershed where you are fishing, you will probably have a very good day.
Nymphs will probably work best.
It is possible some roads in the Park could close later today, due to falling trees. If we do get snow in the Park, we may see roads close tonight. You can watch for that on the Park's Roads Twitter Page by CLICKING HERE.
I am going to spend the day in my nice dry office at the store, receiving fly tying materials that came yesterday from Wapsi.
Visitors will be arriving this weekend and early next week for the Thanksgiving holiday. The weather looks pretty good for the holiday week right now. We will be busy at the shop. We will be closed Thursday and I will not be writing a fishing report.
I am looking forward to a day off, which has been rare over the past few months.

UPDATE 8:35 AM - OVER AN INCH OF RAIN HAS FALLEN IN TOWNSEND THIS MORNING AND THERE IS MUCH MORE HEAVY RAIN COMING. THE STREAMS ARE RISING QUICKLY. WE ARE NOW UNDER A FLOOD ADVISORY.
Have a great day and thank you for being here with us.
Byron Begley
November 23, 2019
Respond to: byron@littleriveroutfitters.com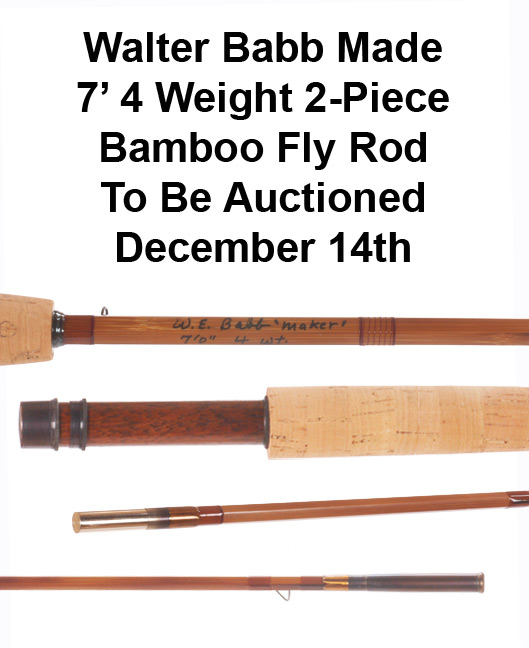 A bamboo fly rod made by Walter Babb and 10 dozen flies tied by him will be auctioned off on Saturday December 14th at about 5:30 to 6:00 pm. This auction benefits the Needy Family Fund of Sweetwater Tennessee. This organization is made up of 20 area churches and raises money to buy food for families in need for Christmas. The auction will be held at the Sweetwater Primary School located at 500 Highway 322 East in Sweetwater.

You do not have to be present to bid on the rod or the flies. Call Phil Roy beforehand, at 423-337-1212 to register. You will be given several phone numbers to call in your bid during the live auction.
Below is what Walter told me about these auction items:
"The rod I made for the Needy Family Auction this year is a seven foot, 2 Piece, 4-weight Wayne Cattanach taper. Wayne is the author of Handcrafting Bamboo Fly Rods, one of the teaching books for me. This is a flamed single tip rod with a Hormigo Negro wooden spacer. In Spanish it is called an ant tree. Reel seat, spacer and ferrules are made by Baily Wood of Classic Sporting Enterprises. Also, the rod bag and rod tube are made by REC.
The box of flies are 10 dozen of my favorite nymphs. They include, three types of Tellico Nymphs, the Gray Squirrel nymph, George Nymph, Bead Head Peasant Tail, Atherton's Medium Nymph, Bead Head Prince Nymph and Mr. Rapidan Emerger. This is my core group of nymphs that I use in the Great Smoky Mountains National Park, Cherokee National Forest and in Western North Carolina. I carry a few others for special occasions or hatches."