If you do not see today's Fishing Report, please refresh your browser to empty your cache.
Welcome to the Fishing Report from Townsend, Tennessee in the Great Smoky Mountains. At 5:16 am, the temperature outside is 35.2 degrees.
Today will be mostly sunny with a high temperature around 60 degrees. Rain and warm temperatures are in store for us tonight. The low is expected to be 50 degrees, with between a quarter and a half inch of rain possible. Expect showers and possibly a thunderstorm tomorrow and warmer, in the mid-60's.
It will be colder tomorrow night and cooler Thanksgiving day with no rain expected.
Little River is flowing at 431 cubic feet per second (cfs) or 2.51 feet on the flow gauge. Median flow for this date is 184 cfs. The water temperature is 47.7 degrees this morning.
Most streams in the Smokies are flowing above normal. Some are fishable and may be safely waded. They are swift, so be careful. Water temperatures in the upper 40's and low 50's sounds fairly warm but if you fell in, you would think differently.
The streams are fairly warm in the lower elevations. Water temperatures will rise today and tomorrow. Fishing will improve, if we do not get too much rain. Hopefully we won't.
Fishing will be fair to good this afternoon and possibly tomorrow, depending on the rainfall amounts.
I would start with nymphs, fished weighted and deep. Be on the lookout for surface activity. Trout may be feeding on blue wing olives, midges or other aquatic insects.
There are some trout tailwater fly fishing opportunities available for you today, especially if you are boating. Check the generation schedules on the TVA website from the links below, to see if you can work with them.
People are traveling and many are spending Thanksgiving week in the Smoky Mountains. We are busy at the shop. I saw a lot of traffic in town yesterday. The fly tying department has been extremely busy. I spent most of the day yesterday, re-ordering to replace what has sold during the past week. I re-stock the department every week, to keep things in stock for you.
I talked to Lily Renzetti yesterday. She and her husband Andy own the Renzetti Inc. in Titusville, Florida. They manufacture some of the best fly tying tools in the world, right here in the USA. Their Traveler is the most popular vise in the world. I have been friends with Andy and Lily for a long time. I only talked to Andy once this year but I speak to Lily often. She told me they are having a very good year and thanked me for help making that happen.
I ordered two Renzetti Master vises yesterday. One is the Special Edition Master, a beautiful piece of equipment for the tyer who wants to own the best. The vise sells for $839. That vise was a special order for a customer.
I also ordered a Master Vise Deluxe with the saltwater base, to display and sell in the shop. That vise sells for $759. We will start selling both of these vises online.
I know what you are thinking. That is a lot of money for a fly tying vise. But, if you think about it, these beautiful vises don't cost any more than a premium fly rod from Orvis, Sage, Winston or Scott. People do buy fly rods that cost $800 to $950 often at our store.
I tie on my Renzetti Master Vise that I bought about 18 years ago. I looked at that purchase as a lifetime investment. Aside from the beautiful machining, anodized finish, almost unlimited adjustments and smooth operation, this vise holds hooks from sizes #28 to 10/0.
I have never tied a fly on a 10/0 hook, nor a size #28, but I could if I wanted to. I have tied 6/0 tarpon flies and #20 midges on mine. It holds the hook like you would not believe.
I think you will be able to see a Renzetti Master vise at the shop by the weekend.
Have a great day and thank you for being here with us.
Byron Begley
November 26, 2019
Respond to: byron@littleriveroutfitters.com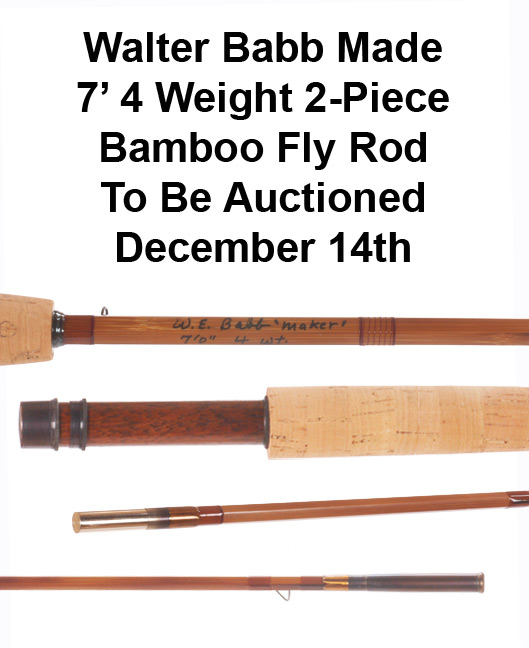 A bamboo fly rod made by Walter Babb and 10 dozen flies tied by him will be auctioned off on Saturday December 14th at about 5:30 to 6:00 pm. This auction benefits the Needy Family Fund of Sweetwater Tennessee. This organization is made up of 20 area churches and raises money to buy food for families in need for Christmas. The auction will be held at the Sweetwater Primary School located at 500 Highway 322 East in Sweetwater.

You do not have to be present to bid on the rod or the flies. Call Phil Roy beforehand, at 423-337-1212 to register. You will be given several phone numbers to call in your bid during the live auction.
Below is what Walter told me about these auction items:
"The rod I made for the Needy Family Auction this year is a seven foot, 2 Piece, 4-weight Wayne Cattanach taper. Wayne is the author of Handcrafting Bamboo Fly Rods, one of the teaching books for me. This is a flamed single tip rod with a Hormigo Negro wooden spacer. In Spanish it is called an ant tree. Reel seat, spacer and ferrules are made by Baily Wood of Classic Sporting Enterprises. Also, the rod bag and rod tube are made by REC.
The box of flies are 10 dozen of my favorite nymphs. They include, three types of Tellico Nymphs, the Gray Squirrel nymph, George Nymph, Bead Head Peasant Tail, Atherton's Medium Nymph, Bead Head Prince Nymph and Mr. Rapidan Emerger. This is my core group of nymphs that I use in the Great Smoky Mountains National Park, Cherokee National Forest and in Western North Carolina. I carry a few others for special occasions or hatches."