If you do not see today's Fishing Report, please refresh your browser to empty your cache.
Welcome to the Fishing Report from Townsend, Tennessee in the Great Smoky Mountains. At 5:11 am, the temperature outside is 63.0 degrees.
It is windy and raining heavy right now. A wind advisory is in effect today. Wind gusts could reach 35 miles per hour in the foothills. Rainfall amounts between a tenth and a quarter of an inch are possible, with higher amounts in thunderstorms. The rain should end later today.
Tonight will be clear and chilly, with a low in the low 30's. Thanksgiving day will be sunny with a high temperature in the low to mid 50's.
Little River is flowing at 336 cubic feet per second (cfs) or 2.31 feet on the flow gauge. Median flow for this date is 188 cfs. The water temperature is 50.5 degrees this morning.
Most of if not all of the streams in the Smokies are flowing above median flow. In most cases, stream levels are good for fly fishing.
The streams are warm in the low elevations. That bodes well for trout activity. Fishing will be good today, unless we get too much rain which does not seem likely. It may happen though.
The problem today may be the wind. Sometimes wind advisories don't pan out. Sometimes they do. We'll have to wait and see on that one.
The weather forecast for Newfound Gap, indicates we may have wind gusts to 40 mph. The rainfall may be higher in the mountains. According to this forecast, rainfall of a half of an inch is possible.
I would wait a while before going, to see how much rain we actually get. We can't get live wind data online for the higher elevations, or at least I can't find a source.
I refer to a personal weather station that is located near our home. You can visit the web page by CLICKING HERE. I just did and learned that the wind has blown up to 13 miles per hour so far this morning. I also learned, we have had .32 inches of rain so far this morning.
You might want to bookmark the link to this weather station. I may prove to be helpful when planning to fish in the Townsend area.
If you do go fishing in the Smokies today, start with weighted nymphs or use split shot to get them down. There is a chance for a blue wing olive hatch, so be prepared for that. Those bugs love nasty weather. Be careful. If the wind is blowing hard, you don't want to be in the forest.
I found an interesting article this morning, about using split shot for nymphs vs using weighted nymphs. You can read it by CLICKING HERE. According to the author, there are pros and cons for both. Using split shot can be beneficial at times. Using weighted nymphs work best in other situations. I believe this article is "spot on".
Short line nymphing is a very effective way to catch trout. The more you learn and practice, the better you get. I learned to do this from an expert in Pennsylvania in the early 80's. I don't think strike indicators had been invented back then. I had never heard of them. However, anglers have been using a dry fly and a dropper nymph or emerger for a very long time.
Now, anglers have learned to tie in brightly colored pieces of nylon into their nymph rig leaders. You have probably heard or read of them being called "sighters". They allow you to short line nymph, while detecting strikes visually and by feel.
We will be open until 5 pm today, closed tomorrow on Thanksgiving Day, then open again on Friday. We will be open until 6 pm Friday.
I will not be writing a fishing report tomorrow.
Have a great Thanksgiving and thank you for being here with us.
Byron Begley
November 27, 2019
Respond to: byron@littleriveroutfitters.com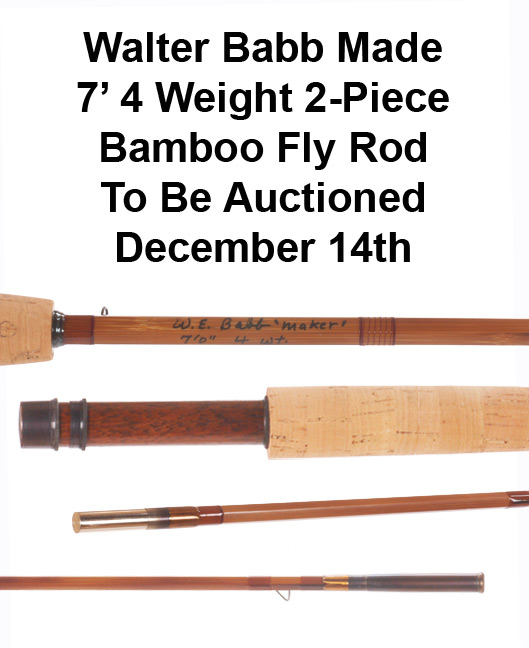 A bamboo fly rod made by Walter Babb and 10 dozen flies tied by him will be auctioned off on Saturday December 14th at about 5:30 to 6:00 pm. This auction benefits the Needy Family Fund of Sweetwater Tennessee. This organization is made up of 20 area churches and raises money to buy food for families in need for Christmas. The auction will be held at the Sweetwater Primary School located at 500 Highway 322 East in Sweetwater.

You do not have to be present to bid on the rod or the flies. Call Phil Roy beforehand, at 423-337-1212 to register. You will be given several phone numbers to call in your bid during the live auction.
Below is what Walter told me about these auction items:
"The rod I made for the Needy Family Auction this year is a seven foot, 2 Piece, 4-weight Wayne Cattanach taper. Wayne is the author of Handcrafting Bamboo Fly Rods, one of the teaching books for me. This is a flamed single tip rod with a Hormigo Negro wooden spacer. In Spanish it is called an ant tree. Reel seat, spacer and ferrules are made by Baily Wood of Classic Sporting Enterprises. Also, the rod bag and rod tube are made by REC.
The box of flies are 10 dozen of my favorite nymphs. They include, three types of Tellico Nymphs, the Gray Squirrel nymph, George Nymph, Bead Head Peasant Tail, Atherton's Medium Nymph, Bead Head Prince Nymph and Mr. Rapidan Emerger. This is my core group of nymphs that I use in the Great Smoky Mountains National Park, Cherokee National Forest and in Western North Carolina. I carry a few others for special occasions or hatches."