If you do not see today's Fishing Report, please refresh your browser to empty your cache.
Welcome to the Fishing Report from Townsend, Tennessee in the Great Smoky Mountains. At 5:13 am, the temperature outside is 45.7 degrees.
It will be partly sunny today with a high temperature in the mi-50's. Tomorrow will be warmer, in the low 60's with showers arriving in the afternoon. Not much rain is expected. More rain and wind is expected Saturday night through Sunday night. It will be breezy Sunday.
Little River is flowing at 319 cubic feet per second (cfs) or 2.27 feet on the flow gauge. Median flow for this date is 239 cfs. the water temperature is 47.8 degrees this morning.
Fishing will be fair to good today and tomorrow. Water levels are good, though most streams are flowing higher than normal. Stream temperatures will trend upward during the period. It should be overcast at times today, and all day tomorrow. That will improve the fishing conditions further.
I would use weighted nymphs. If your nymphs are not weighted flies, add split shot to get them down. My favorite nymph patterns are Tellico, Prince, Pheasant Tail and Hare's Ear. Watch for surface activity. Conditions will be good for a blue wing olive hatch or other aquatic insects. Be prepared for that with dries and emergers.
I saw a couple of fly fishing opportunities on the trout tailwaters. There are not many to choose from today. There may be more if you are boating. Visit the TVA website from the links below to see what opportunities are available for you today.
I hope everyone is having a great Thanksgiving holiday week. We will be open today at 9 am until 6 pm today, with the same schedule tomorrow. We will be open Sunday from 9 am until 5 pm. We only close 4 days per year for holidays. Yesterday was one of them.
I didn't write a fishing report and that felt odd. I still got up early though.
I spent some time yesterday organizing my fishing room and office. Now, I'm going to organize all of my fly tying materials. That is going to be a job! It will be a fun job.
Customers will be shopping at the shop, online or calling us to ship Christmas gift presents over the next four weeks. We do not charge for ground shipping. Gift cards sales will be high through the holidays.
I remember the days when we sold paper "gift certificates", not electronic gift cards. Over twenty years ago, we were printing and mailing catalogs. Now, we have an online store. I spend a lot of my time, working on the online store.
We have offered free shipping for over 20 years. Back then, free shipping was almost unheard of. Our shipping department will be busy from now until the New Year holiday.
We all hope to see or hear from you this weekend.
Have a great day and thank you for being here with us.
Byron Begley
November 29, 2019
Respond to: byron@littleriveroutfitters.com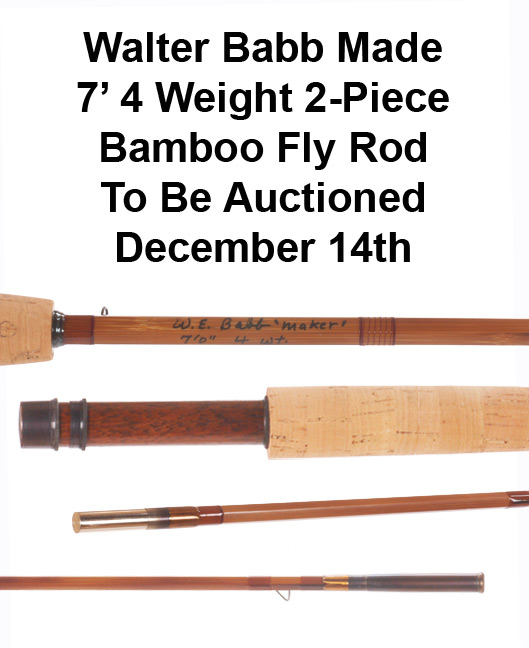 A bamboo fly rod made by Walter Babb and 10 dozen flies tied by him will be auctioned off on Saturday December 14th at about 5:30 to 6:00 pm. This auction benefits the Needy Family Fund of Sweetwater Tennessee. This organization is made up of 20 area churches and raises money to buy food for families in need for Christmas. The auction will be held at the Sweetwater Primary School located at 500 Highway 322 East in Sweetwater.

You do not have to be present to bid on the rod or the flies. Call Phil Roy beforehand, at 423-337-1212 to register. You will be given several phone numbers to call in your bid during the live auction.
Below is what Walter told me about these auction items:
"The rod I made for the Needy Family Auction this year is a seven foot, 2 Piece, 4-weight Wayne Cattanach taper. Wayne is the author of Handcrafting Bamboo Fly Rods, one of the teaching books for me. This is a flamed single tip rod with a Hormigo Negro wooden spacer. In Spanish it is called an ant tree. Reel seat, spacer and ferrules are made by Baily Wood of Classic Sporting Enterprises. Also, the rod bag and rod tube are made by REC.
The box of flies are 10 dozen of my favorite nymphs. They include, three types of Tellico Nymphs, the Gray Squirrel nymph, George Nymph, Bead Head Peasant Tail, Atherton's Medium Nymph, Bead Head Prince Nymph and Mr. Rapidan Emerger. This is my core group of nymphs that I use in the Great Smoky Mountains National Park, Cherokee National Forest and in Western North Carolina. I carry a few others for special occasions or hatches."