If you do not see today's Fishing Report, please refresh your browser to empty your cache.
Welcome to the Fishing Report from Townsend, Tennessee in the Great Smoky Mountains. At 5:25 am, the temperature outside is 59.7 degrees.
Heavy rain drenched Townsend last night. We got 2.19 inches during the past 24 hours. It was also very windy overnight. The Park is not reporting any closed roads this morning. That may change later.
Rain may continue this morning before tapering off after 9:00 am. Wind gusts to 40 miles per hour are possible today. There is a 50% chance for more rain tonight. Rain may change to snow tomorrow morning in the foothills, then change back to rain. Snow is expected to accumulate in the higher elevations of the Smokies, where up to 10 inches is possible.
Little River is flowing at 1,670 cubic feet per second (cfs) or 4.18 feet on the gauge and rising. Median flow for this date is 246 cfs. The water temperature is 55.4 degrees this morning.
Little Pigeon River is flowing at 3,960 cfs, 5.03 feet, compared to median flow of 301 cfs. The river is rising. The current flow is a record for this date, last set in 2016.
Oconaluftee River is flowing at 3,560 cfs, 4.72 feet, compared to median flow of 403 cfs. Oconaluftee is still rising.
Tellico River is flowing at 2,160 cfs, 5.48 feet, compared to median flow of 173 cfs. The current flow is a record for this date, last set in 2011. The river continues to rise.
As you can see, the streams are blown out and they have not peaked. They all may rise much further until later today. Wading is dangerous.
The TVA website indicates heavy generation at some dams, but there are possible fishing opportunities on the Clinch River today. Check that river from the link below to see if you can work with the schedule.
A friend of ours called during the night. They were trying to drive to the Nashville Airport at 2:00 am to catch a plane this morning. A large tree fell onto Old Cades Cove Road. They were stuck. She called to see if there is another way out of the valley. They are new to the area. There is only one way out. I may be stuck here this morning too.
Our sport is weather dependent, and this year has not been kind to anglers, or fly shops, in our region. Remember all the rain that spoiled our fishing last Winter and Spring? The trout tailwaters were not fishable for what seemed like months.
Then, we lived through the heat wave this Summer and early Fall. Though rainfall in our area is way above normal for the year, we found ourselves in a "Flash Drought" this Fall, all over the Southeast and to our north. Stream levels were very low. Water temperatures were high.
The drought ended in Tennessee but it still lingers in parts of the Southeast.
It seems kind of amazing to me, that our business is up from last year. We have one month left, but I think this will be a good business year at the shop.
This is a tough business, without the effects of the weather. Our store is stocked better than ever, and we will hopefully end the year very well. I am thankful for you.
Have a great day and thank you for being here with us.
Byron Begley
December 1, 2019
Respond to: byron@littleriveroutfitters.com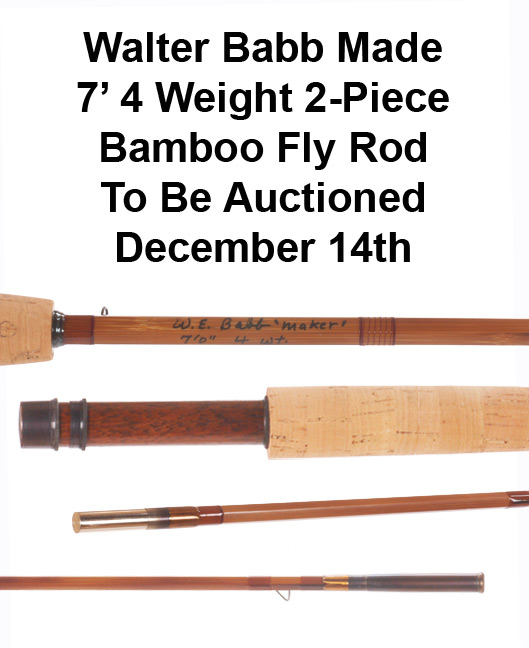 A bamboo fly rod made by Walter Babb and 10 dozen flies tied by him will be auctioned off on Saturday December 14th at about 5:30 to 6:00 pm. This auction benefits the Needy Family Fund of Sweetwater Tennessee. This organization is made up of 20 area churches and raises money to buy food for families in need for Christmas. The auction will be held at the Sweetwater Primary School located at 500 Highway 322 East in Sweetwater.

You do not have to be present to bid on the rod or the flies. Call Phil Roy beforehand, at 423-337-1212 to register. You will be given several phone numbers to call in your bid during the live auction.
Below is what Walter told me about these auction items:
"The rod I made for the Needy Family Auction this year is a seven foot, 2 Piece, 4-weight Wayne Cattanach taper. Wayne is the author of Handcrafting Bamboo Fly Rods, one of the teaching books for me. This is a flamed single tip rod with a Hormigo Negro wooden spacer. In Spanish it is called an ant tree. Reel seat, spacer and ferrules are made by Baily Wood of Classic Sporting Enterprises. Also, the rod bag and rod tube are made by REC.
The box of flies are 10 dozen of my favorite nymphs. They include, three types of Tellico Nymphs, the Gray Squirrel nymph, George Nymph, Bead Head Peasant Tail, Atherton's Medium Nymph, Bead Head Prince Nymph and Mr. Rapidan Emerger. This is my core group of nymphs that I use in the Great Smoky Mountains National Park, Cherokee National Forest and in Western North Carolina. I carry a few others for special occasions or hatches."