If you do not see today's Fishing Report, please refresh your browser to empty your cache.
Welcome to the Fishing Report from Townsend, Tennessee in the Great Smoky Mountains. At 5:15 am, the temperature outside is 35.6 degrees.
Today will be mostly cloudy with a high temperature around 44 degrees, dipping to the low 30's tonight. Tomorrow, through Thursday will be sunny, with highs in the 50's and lows in the 30's.
Some roads in the Park are closed due to snow and ice. They are, Cherokee Orchard Road, Highway 441, Foothills Parkway West from Walland to Wears Valley and Foothills Parkway East at Cosby.
The Cades Cove Loop Road will be closed Monday through Thursday this week and next week for tree work.
Little River is flowing at 631 cubic feet per second (cfs) or 2.85 feet on the flow gauge. Median flow for this date is 208 cfs. The water temperature is 45.3 degrees this morning.
Most streams in the Park are flowing higher than normal. The water is too swift for safe wading in some areas. Be careful if you go.
I would choose a smaller stream and wade as little as possible. Nymphs will probably work best. My nymphs choices would be the same as usual, Prince, Tellico, Pheasant Tail or Hare's Ear. Add plenty of weight to get them down. Using a pair of nymphs will improve your chances. You could use a strike indicator or "high stick" without one.
Fishing conditions are improving and they will improve further over the next couple of days. Water temperatures will be falling in the mornings. I would go later in the day, when the water is warmer.
I am working on Fishpond and have been for over two weeks. I'm doing a lot of photo work, writing and designing pages for our online store and our Fishpondflyfishing.com website. I'll finish sometime this week. You will be receiving e-mails highlighting all of the Fishpond gear, much of which is new this year or includes color changes.
Fishpond is an amazing company. We sell a lot of Fishpond gear. We became a dealer when the company was founded.
Fishpond is famous for their sling packs, chest packs and lumber packs. I ran the numbers yesterday and confirmed, our best selling Fishpond pack this year is the Summit Sling. This pack sells for $99.95, which is a value and that is probably why it is our best seller. You can see it on our online store by CLICKING HERE. The Summit Sling comes in two colors, Gravel and Tortuga.
Fishpond introduced a new sling pack this year, called the Flathead Sling. It sells for $149.95. Like the Summit, it has a landing net slot, but this one is different. Being ambidextrous, the pack can be worn on either shoulder. The net slot is actually two net slots, so you can change the net position depending on which shoulder you are wearing the pack. You can better understand what I am talking about by looking at the photos on our online store by CLICKING HERE.
We think this pack may become our best selling pack, though the price is higher than the Summit. We'll see how it goes over the next few months.
Fishpond gear always sells well during the Christmas buying season. This year is no exception.
Have a great day and thank you for being here with us.
Byron Begley
December 3, 2019
Respond to: byron@littleriveroutfitters.com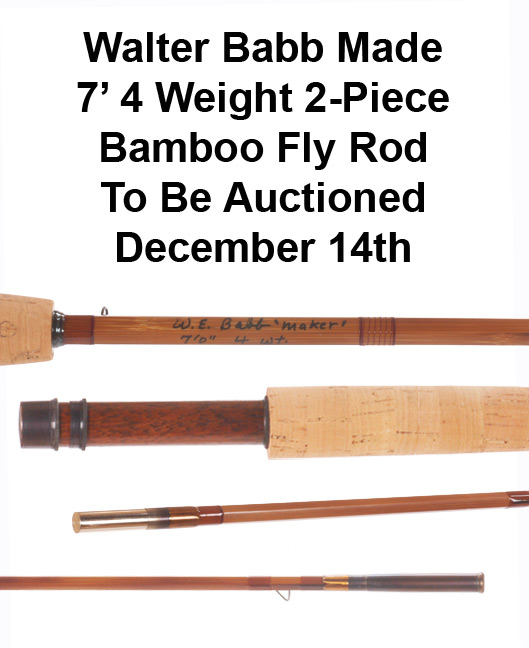 A bamboo fly rod made by Walter Babb and 10 dozen flies tied by him will be auctioned off on Saturday December 14th at about 5:30 to 6:00 pm. This auction benefits the Needy Family Fund of Sweetwater Tennessee. This organization is made up of 20 area churches and raises money to buy food for families in need for Christmas. The auction will be held at the Sweetwater Primary School located at 500 Highway 322 East in Sweetwater.

You do not have to be present to bid on the rod or the flies. Call Phil Roy beforehand, at 423-337-1212 to register. You will be given several phone numbers to call in your bid during the live auction.
Below is what Walter told me about these auction items:
"The rod I made for the Needy Family Auction this year is a seven foot, 2 Piece, 4-weight Wayne Cattanach taper. Wayne is the author of Handcrafting Bamboo Fly Rods, one of the teaching books for me. This is a flamed single tip rod with a Hormigo Negro wooden spacer. In Spanish it is called an ant tree. Reel seat, spacer and ferrules are made by Baily Wood of Classic Sporting Enterprises. Also, the rod bag and rod tube are made by REC.
The box of flies are 10 dozen of my favorite nymphs. They include, three types of Tellico Nymphs, the Gray Squirrel nymph, George Nymph, Bead Head Peasant Tail, Atherton's Medium Nymph, Bead Head Prince Nymph and Mr. Rapidan Emerger. This is my core group of nymphs that I use in the Great Smoky Mountains National Park, Cherokee National Forest and in Western North Carolina. I carry a few others for special occasions or hatches."