If you do not see today's Fishing Report, please refresh your browser to empty your cache.
Welcome to the Fishing Report from Townsend, Tennessee in the Great Smoky Mountains. At 5:13 am, the temperature outside is 27.3 degrees.
Today and tomorrow will be sunny with high temperatures in the low to mid 50's and lows in the 30's. The current warming trend will extend through the weekend with a chance for rain Friday.
Little River is flowing at 458 cubic feet per second (cfs) or 2.56 feet on the flow gauge. Median flow for this date is 211 cfs. The water temperature is 45 degrees this morning.
Little Pigeon River is flowing at 695 cfs or 2.35 feet. Median flow for this date is 281 cfs.
Oconaluftee River is flowing at 959 cfs, 2.56 feet, which compares to median flow of 403 cfs. The water temperature is 42.8 degrees.
Tellico River is flowing at 346 cfs, 1.83 feet, compared to median flow of 172 cfs.
Cataloochee Creek is flowing at 221 cfs, 3.03 feet, compared to median flow of 77 cfs for this date. The water temperature is 40.1 degrees this morning.
Most streams in the Smokies are flowing above normal, though many are now fishable. Water temperatures are on the chilly side, this morning. Water temps did not rise much yesterday. The temps will trend upward this week, improving fishing some. Water levels will continue to fall. Fishing is going to be better this week. The warmer the water gets, the better the fishing will be. I would go later in the day when the water is warmer. I would also fish the lower elevations where the water is warmer.
Plan on using nymphs, weighted and fished deep. It is possible you will see some surface activity at times. Blue wing olives, midges and other Winter active aquatic insects may be enticing trout to feed on top. Nymph fishing is still going to be your best option, at most times.
I checked predicted flows on the TVA website at dams in our area. It looks like they will be generating non-stop at Cherokee Dam and Douglas Dam today. And, the same holds true at Norris Dam. I don't see any chance for fishing at Wolf Creek Dam today. The tailwaters are not much of an option today.
The mountains we see from our house were covered with snow yesterday. They are a beautiful sight. We only see those mountains during the Winter months, when the leaves have fallen.
The new section of the Foothills Parkway between Walland and Wears Valley has re-opened. It was closed this weekend due to snow and ice. I can see that road from my office at the shop. I didn't see any snow on that mountain yesterday.
Cades Cove Loop Road is closed Monday through Thursday this week and next, for tree trimming a removal work.
Highway 441 (Newfound Gap Road) is still listed as closed due to snow and ice today.
Four inches of snow fell at LeConte Lodge this weekend. LeConte reports that so far this year, they have had 21.35 inches of snow. Most of that fell in January through March. They have had 94.1 inches of rain up there so far this year. The warmest temperature they report was 77 degrees this Summer. The coldest day this year was 5 below zero.
The Mount LeConte Winter caretaker writes a report every day. You can read them by CLICKING HERE.
We are seeing a lot of wild turkeys around our home. I saw a group of 20 to 30 yesterday when I came home from work. A pretty buck walked out of the woods this weekend. That animal had a nice rack, though he was not a big deer. We have not seen any bears and none have walked by our house during the day since early Fall. I know, because our bird feeders have not been destroyed. We bring them in a night.
I had both of our HVAC units at the house serviced yesterday. They are over 27 years old and still running well. I do have quotes to replace them when they die. They made long lasting heat pumps back in those days. We have four, 4-ton heat pumps at the shop. Those are only 16 years old. They have not been as reliable and they are the same brand.
We are fairly busy at the shop, mostly from mail order on the weekdays.
Have a great day and thank you for being here with us.
Byron Begley
December 4, 2019
Respond to: byron@littleriveroutfitters.com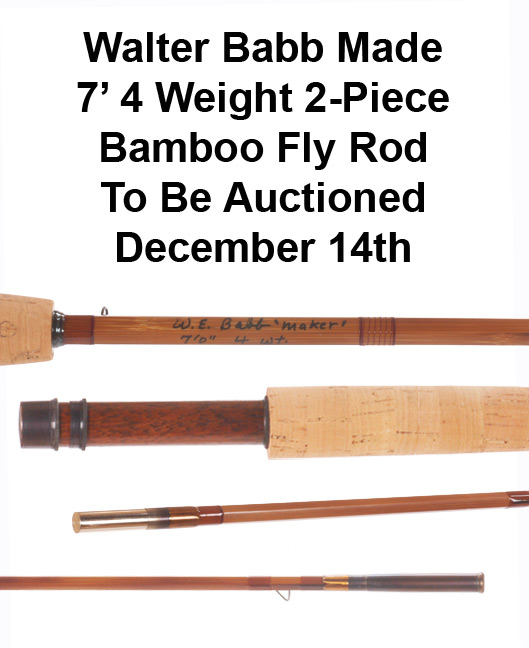 A bamboo fly rod made by Walter Babb and 10 dozen flies tied by him will be auctioned off on Saturday December 14th at about 5:30 to 6:00 pm. This auction benefits the Needy Family Fund of Sweetwater Tennessee. This organization is made up of 20 area churches and raises money to buy food for families in need for Christmas. The auction will be held at the Sweetwater Primary School located at 500 Highway 322 East in Sweetwater.

You do not have to be present to bid on the rod or the flies. Call Phil Roy beforehand, at 423-337-1212 to register. You will be given several phone numbers to call in your bid during the live auction.
Below is what Walter told me about these auction items:
"The rod I made for the Needy Family Auction this year is a seven foot, 2 Piece, 4-weight Wayne Cattanach taper. Wayne is the author of Handcrafting Bamboo Fly Rods, one of the teaching books for me. This is a flamed single tip rod with a Hormigo Negro wooden spacer. In Spanish it is called an ant tree. Reel seat, spacer and ferrules are made by Baily Wood of Classic Sporting Enterprises. Also, the rod bag and rod tube are made by REC.
The box of flies are 10 dozen of my favorite nymphs. They include, three types of Tellico Nymphs, the Gray Squirrel nymph, George Nymph, Bead Head Peasant Tail, Atherton's Medium Nymph, Bead Head Prince Nymph and Mr. Rapidan Emerger. This is my core group of nymphs that I use in the Great Smoky Mountains National Park, Cherokee National Forest and in Western North Carolina. I carry a few others for special occasions or hatches."