If you do not see today's Fishing Report, please refresh your browser to empty your cache.
Welcome to the Fishing Report from Townsend, Tennessee in the Great Smoky Mountains. At 5:07 am, the temperature outside is 36.7 degrees.
Today will be cloudy with a high temperature in the mid-50's. There is a 40% chance for rain today. We'll see temperatures dip to the upper 30's tonight, then rise to the mid-50's again tomorrow. Sunday will be partly sunny with a high in the mid-50's. Rain is in the forecast Sunday night and Monday. It will be warmer Monday, with a high in the low 60's dipping to only the upper 40's Monday night.
Little River is flowing at 299 cubic feet per second (cfs) or 2.22 feet on the flow gauge. Median flow for this date is 227 cfs. The water temperature is 44.1 degrees this morning.
Though yesterday was very warm, 63.9 degrees in Townsend at the peak, the water temperatures did not rise much. That was caused by melting snow in the mountains. Mount LeConte reported there was still 3 inches of snow on the ground there, early yesterday morning. About an inch of snow melted the day before. Water temperatures could rise today, but I'm not sure by how much.
Right now, the water temperature at the low elevation USGS gauge on Little River is 44 degrees and it only rose to 45 degrees yesterday. We will see warmer days and nights through the weekend and into Monday with rain in the forecast at times. Water temperatures will rise some and fishing should improve. I hope so.
Most trout are not very active when the water temps are in the low 40's. The exception is post-spawn brown trout.
I would wait to go fishing later when the water is warmer, and fish the lower elevations where the water is warmer.
This is nymph and streamer fishing time in the Smokies. Fishing is only fair right now. Fish your nymphs weighted and tickling the bottom. A Tellico, Prince, Hare's Ear or Pheasant Tail will work. Some version of a Muddler Minnow is a good choice for your streamer pattern.
You may do well fishing the lowland rivers where trout are stocked. The delayed harvest streams in Tennessee and North Carolina may be good options right now.
The water is clear and receding, so stealth is very important to your success. Dress to blend with the forest in muted clothing.
Tennessee Valley Authority and the Corps of Engineers are generating around the clock on the area tailwaters today. I do not see any wading opportunities around here today. You may find some angler friendly schedules if you are willing to travel. Check the TVA website from the links below to see if you can find a tailwater near you with a good schedule.
I spent all day yesterday, receiving and re-ordering fly tying materials and tools. I'll do the same today. Fly tying season has begun.
I decided to start stocking the Renzetti Master fly tying vise. I ordered one and it arrived yesterday. After assembly, I'll shoot some photos for our online store. We stock several models of Renzetti fly tying vises. Our best seller is the standard Traveler with a pedestal base, which sells for $179.95. The Renzetti Master we now stock sells for over $700.
I have an old Master, and I love it. I bought mine sometime during the 90's, I think, when they were first built.
We stock some Renzetti vises with the clamp option. Almost everyone buys the pedestal base versions. Mine is setup to be used either way. I have a stem extension for using it as a clamp model. The extension can be removed for use with the pedestal base.
Have a great day and thank you for being here with us.
Byron Begley
December 6, 2019
Respond to: byron@littleriveroutfitters.com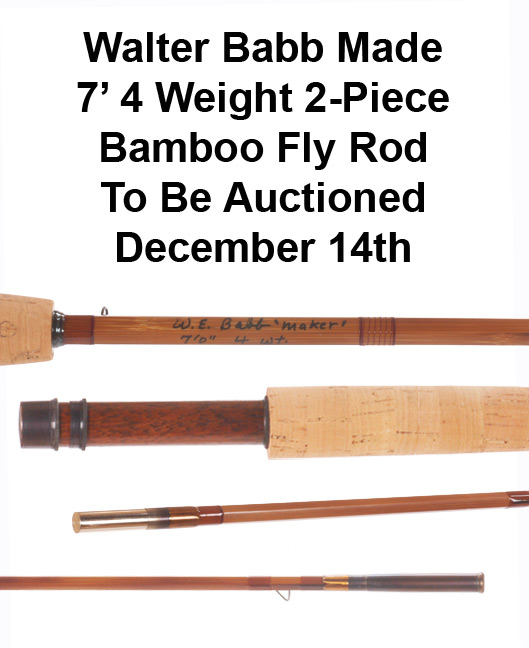 A bamboo fly rod made by Walter Babb and 10 dozen flies tied by him will be auctioned off on Saturday December 14th at about 5:30 to 6:00 pm. This auction benefits the Needy Family Fund of Sweetwater Tennessee. This organization is made up of 20 area churches and raises money to buy food for families in need for Christmas. The auction will be held at the Sweetwater Primary School located at 500 Highway 322 East in Sweetwater.

You do not have to be present to bid on the rod or the flies. Call Phil Roy beforehand, at 423-337-1212 to register. You will be given several phone numbers to call in your bid during the live auction.
Below is what Walter told me about these auction items:
"The rod I made for the Needy Family Auction this year is a seven foot, 2 Piece, 4-weight Wayne Cattanach taper. Wayne is the author of Handcrafting Bamboo Fly Rods, one of the teaching books for me. This is a flamed single tip rod with a Hormigo Negro wooden spacer. In Spanish it is called an ant tree. Reel seat, spacer and ferrules are made by Baily Wood of Classic Sporting Enterprises. Also, the rod bag and rod tube are made by REC.
The box of flies are 10 dozen of my favorite nymphs. They include, three types of Tellico Nymphs, the Gray Squirrel nymph, George Nymph, Bead Head Peasant Tail, Atherton's Medium Nymph, Bead Head Prince Nymph and Mr. Rapidan Emerger. This is my core group of nymphs that I use in the Great Smoky Mountains National Park, Cherokee National Forest and in Western North Carolina. I carry a few others for special occasions or hatches."