If you do not see today's Fishing Report, please refresh your browser to empty your cache.
Welcome to the Fishing Report from Townsend, Tennessee in the Great Smoky Mountains. At 5:22 am, the temperature outside is 39.4 degrees.
Warm air will continue to improve fishing in the Smokies today through Monday. Look for highs to be in the upper 50's today and tomorrow, and possibly reaching the low 60's Monday. Lows at night will be around 38 tonight, 44 tomorrow night and 54 Monday night. Rain is back in the forecast beginning Sunday night and lasting through Tuesday night.
Little River is flowing at 260 cubic feet per second (cfs) or 2.12 feet on the flow gauge. Median flow for this date is 199 cfs. The water temperature is 46.8 degrees and steady.
Water temperatures in the Smokies are trending up and that will continue into early next week. Fishing will improve each day. A week ago, we saw the water temperature reach 55 degrees. Fishing was good. I don't know if we will see that happen again this weekend, but the streams will warm further and fishing will get better.
Nymphs and streamers will work best unless you happen upon a hatch, which could be blue wing olives. Fish your nymphs weighted with split shot to get them down. My favorite nymph patterns are, Tellico, Prince, Pheasant Tail and Hare's Ear. Other nymph patterns will work and some may produce better.
More important than fly choice is stealth and presentation. Dress to blend with the forest and get a good drift. Don't spook the trout and keep those nymphs moving at the same rate of speed as the current.
A Muddler Minnow or other sculpin patterns are good streamer choices. Streamers that resemble rainbow trout are other choices that may work well for you, especially for catching brown trout. Big browns love to eat rainbows.
Lowland river fishing where trout are stocked will be fishing well this weekend.
I didn't see any tailwater trout fishing opportunities around here for today. Generally, they are generating heavily at the area dams. I noticed they are spilling at Wolf Creek Dam below Lake Cumberland in Kentucky.
Heavy rain and colder temperatures are in store for us next week. It will be warm until Tuesday but temperatures will plunge Tuesday night. We may get snow Tuesday night. Water temperatures will eventually fall and fishing will slow next week after Tuesday. Heavy rain Tuesday may swell the streams again.
The first week of December ends today. We have been busy at the shop. The department, leading all the others is fly tying. This has been a very big fly tying year. A lot of what we are selling now, has been shipped to customers in other states. The big sellers are, Renzetti fly tying vises. It seems like every time I mention Renzetti on this report, we sell one or two that day. So, I can't help but mention it one more time, to see what happens. I'll try to refrain for a while to give you a break.
Today we remember the attack on Pearl Harbor, when thousands of Americans were killed or wounded and we were drawn into World War II.

My father was in college at the time, Center College in Kentucky. He dropped out and joined the US Navy.
The Navy sent him to college in Boston, where he graduated and was commissioned as a gunnery officer and assigned to a destroyer. His ship was headed to Japan to end the war. During the voyage, Japan surrendered and the war was over. He and his men never got to fire one shot at the enemy.
Have a great day and thank you for being here with us.
Byron Begley
December 7, 2019
Respond to: byron@littleriveroutfitters.com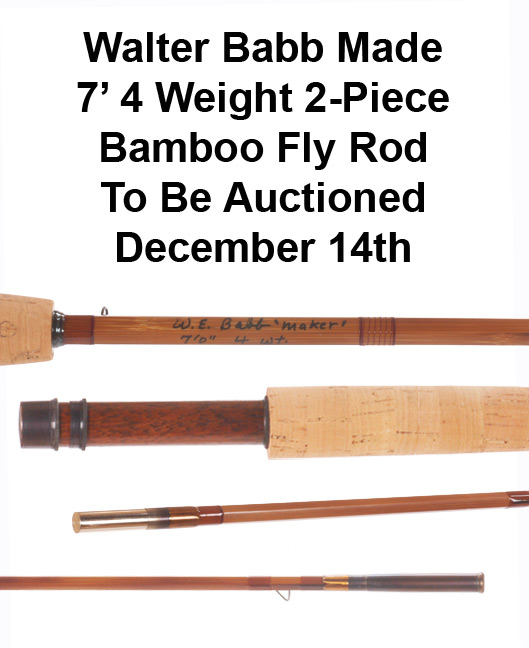 A bamboo fly rod made by Walter Babb and 10 dozen flies tied by him will be auctioned off on Saturday December 14th at about 5:30 to 6:00 pm. This auction benefits the Needy Family Fund of Sweetwater Tennessee. This organization is made up of 20 area churches and raises money to buy food for families in need for Christmas. The auction will be held at the Sweetwater Primary School located at 500 Highway 322 East in Sweetwater.

You do not have to be present to bid on the rod or the flies. Call Phil Roy beforehand, at 423-337-1212 to register. You will be given several phone numbers to call in your bid during the live auction.
Below is what Walter told me about these auction items:
"The rod I made for the Needy Family Auction this year is a seven foot, 2 Piece, 4-weight Wayne Cattanach taper. Wayne is the author of Handcrafting Bamboo Fly Rods, one of the teaching books for me. This is a flamed single tip rod with a Hormigo Negro wooden spacer. In Spanish it is called an ant tree. Reel seat, spacer and ferrules are made by Baily Wood of Classic Sporting Enterprises. Also, the rod bag and rod tube are made by REC.
The box of flies are 10 dozen of my favorite nymphs. They include, three types of Tellico Nymphs, the Gray Squirrel nymph, George Nymph, Bead Head Peasant Tail, Atherton's Medium Nymph, Bead Head Prince Nymph and Mr. Rapidan Emerger. This is my core group of nymphs that I use in the Great Smoky Mountains National Park, Cherokee National Forest and in Western North Carolina. I carry a few others for special occasions or hatches."