If you do not see today's Fishing Report, please refresh your browser to empty your cache.
Welcome to the Fishing Report from Townsend, Tennessee in the Great Smoky Mountains. At 5:07 am, the temperature outside is 59.0 degrees.
It began raining at our house this morning at 3:39 am. So far, we have had .47 inches of rain. Rainfall amounts today are predicted to reach between a half and three quarters of an inch today with more expected tonight. The temperature will fall to about 40 degrees by 5 pm.
The rain is predicted to turn to snow between 11:00 pm and 3:00 am tonight with less than an inch possible, except in the higher elevations. In the valley, the streets will be warm so travel tomorrow should not be a problem. Tomorrow will be mostly cloudy with a high in the mid-40's.
Little River is flowing at 228 cubic feet per second (cfs) or 2.03 feet on the flow gauge. Median flow for this date is 226 cfs. The water temperature is 53.6 degrees this morning.
Little River Road, between Metcalf Bottoms and the Townsend "Y" is closed due to rock slides. Cades Cove Loop Road is closed today, through Thursday, for tree clearing.
Fishing may be good today, if the streams do not rise too much or become stained. Nymphs and streamers will probably work best unless you encounter a hatch, which could be blue wing olives or other aquatic insects. I would count on using nymphs and streamers but you never know.
Hopefully, Little River Road will open soon. I would plan on fishing the Middle Prong or West Prong of Little River. When you enter the Park at the Townsend entrance and reach the "Y", you will be able to see if the gate to Little River Road is closed to the left. If it is, turn right.
Fishing may be good today in the lowland rivers that are stocked with trout. Some streams may be stained, due to the rain we are getting now.
TVA or the Corps of Engineers are generating around the clock at all of the tailwaters nearby. You may find some tailwaters that have angler friendly flows. Check the TVA website from the links below and plan on driving if you live in our area.
You may have noticed the aquarium in the shop with young trout swimming around in it. This aquarium is part of a the Little River Chapter of Trout Unlimited's "Trout in the Classroom" program. These aquariums are placed in and maintained by middle school students in our area. The students watch trout hatch and grow, to be released into the streams. The aquarium in our store is used for awareness of the program, obtaining donations and so home schooled children can participate.
Friday morning, 6th graders from Ealgeton Middle School released their trout in Little River in Townsend. About 100 students were bussed to the river for the big day. Several TU volunteers were on hand to offer help and give aquatic biology and fly fishing instruction to the students.
This is a great program. It has been very successful. You can read more about the Eagleton Middle School raise and release project on the Daily Times website by CLICKING HERE.
About half of the trout in the tank at our shop were removed and released by students last week.
We are very busy at the shop, shipping orders, working with customers and selling gift cards. Gift cards are a hot item right now. Call the shop to buy them. Or come by and do it in person. You may also buy them online by CLICKING HERE.
I am spending my time working on the online store and keeping the fly tying department stocked. I have been doing a lot of product photography in our studio.
We are also taking reservations for next year's fly tying and fly fishing classes. You can see our school schedule by CLICKING HERE. Call the shop at 865-448-9459 to reserve your spot in a class.
Have a great day and thank you for being here with us.
Byron Begley
December 10, 2019
Respond to: byron@littleriveroutfitters.com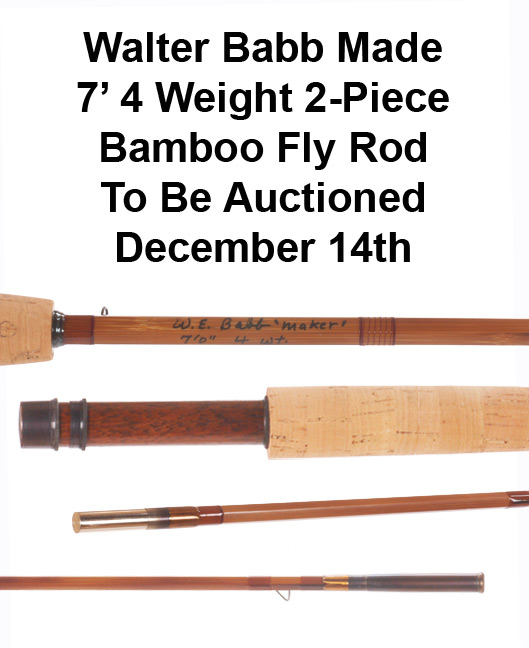 A bamboo fly rod made by Walter Babb and 10 dozen flies tied by him will be auctioned off on Saturday December 14th at about 5:30 to 6:00 pm. This auction benefits the Needy Family Fund of Sweetwater Tennessee. This organization is made up of 20 area churches and raises money to buy food for families in need for Christmas. The auction will be held at the Sweetwater Primary School located at 500 Highway 322 East in Sweetwater.

You do not have to be present to bid on the rod or the flies. Call Phil Roy beforehand, at 423-337-1212 to register. You will be given several phone numbers to call in your bid during the live auction.
Below is what Walter told me about these auction items:
"The rod I made for the Needy Family Auction this year is a seven foot, 2 Piece, 4-weight Wayne Cattanach taper. Wayne is the author of Handcrafting Bamboo Fly Rods, one of the teaching books for me. This is a flamed single tip rod with a Hormigo Negro wooden spacer. In Spanish it is called an ant tree. Reel seat, spacer and ferrules are made by Baily Wood of Classic Sporting Enterprises. Also, the rod bag and rod tube are made by REC.
The box of flies are 10 dozen of my favorite nymphs. They include, three types of Tellico Nymphs, the Gray Squirrel nymph, George Nymph, Bead Head Peasant Tail, Atherton's Medium Nymph, Bead Head Prince Nymph and Mr. Rapidan Emerger. This is my core group of nymphs that I use in the Great Smoky Mountains National Park, Cherokee National Forest and in Western North Carolina. I carry a few others for special occasions or hatches."