If you do not see today's Fishing Report, please refresh your browser to empty your cache.
Welcome to the Fishing Report from Townsend, Tennessee in the Great Smoky Mountains. At 5:12 am, the temperature outside is 39.7 degrees.
It will be warm and wet today, with a high temperature around 50 degrees, falling only to the low 40's tonight. Rain will continue tonight and tomorrow. Expect highs this weekend of 50 degrees and lows in the upper 30's tomorrow night and the low 40's Saturday night. Sunday will be partly sunny with no chance for rain.
Little River is flowing at 421 cubic feet per second (cfs) or 2.49 feet on the flow gauge. Median flow for this date is 259 cfs. The water temperature is 45.1 degrees this morning, and rising.
Little Pigeon River is flowing at 873 cfs, 2.60 feet, compared to median flow of 360 cfs for this date.
Oconaluftee River is flowing at 705 cfs, 2.25 feet, which compares to median flow of 471 cfs. The water temperature is 43.2 degrees.
Tellico River is flowing at 350 cfs or 1.71 feet at the Tellico Plains gauge. Median flow for this date is 204 cfs.
Cataloochee Creek is flowing at 175 cfs, 2.88 feet, compared to median flow of 84 cfs. The water temperature is 41.2 degrees this morning.
The streams are receding. Many are fishable and can be safely waded. No significant rain is expected today, though we may get heavier rain tonight and tomorrow.
Water temperatures are trending up. Fishing will improve somewhat, due to that.
Fishing in the Smokies may not be good, but it is fair. Use nymphs or streamers unless you encounter a hatch with trout feeding on the surface. Be prepared with blue wing olive dries and emergers, just in case.
TVA and the Corps of Engineers continue to generate around the clock at our area dams. They are also sluicing at some and spilling at Wolf Creek Dam. The lake levels are higher than they prefer at this time of the year.
We are busy at the shop, mostly on the mail order side of the business. Gift Cards are a hot item too. The fly tying department is performing extremely well. I placed two orders with Renzetti yesterday, and was able to get them combined to save shipping costs.
We have a new executive director at the Great Smoky Mountains Heritage Center in Townsend. The first director, Bob Patterson retired this year. The new director is Brent Lambert from Chattanooga. He will start working on the job Monday. His former position was vice president and COO at the Tennessee Valley Railroad Museum in Chattanooga. You can read more about the center and Brent on the Daily Times website by CLICKING HERE.
Jim Gray, probably the finest artist I have ever known passed way this week at the age of 87. There is a great tribute to him on the WBIR website. You can view it by CLICKING HERE.
I met Jim over 27 years ago. I was organizing a Trout Unlimited Chapter here, that we named the Little River Chapter of TU.
At that time, Jim created a beautiful painting called "The Angler". A portion of the sales of the limited edition prints would be donated to the Little River Chapter to be used for fisheries projects in Great Smoky Mountains National Park. Jim donated a lot of money to the Chapter, and that began our funding efforts for the Park.
Jim was a very nice man. I was talking to him once, outside the doors at the wildlife art show in Gatlinburg. The Little River Chapter had a booth near the entry. We decided to go into the packed show together. When we walked in, almost everyone in that huge hall stopped what they were doing looked at us. Actually, they were looking at Jim. Silence fell on the hall. I could tell right away, the wildlife artists inside had just seen one of the best, an icon. We walked around and visited everyone who was displaying their art. Jim was so kind and encouraging to all of them. What a wonderful and talented man Jim was.
Have a great day and thank you for being here with us.
Byron Begley
December 13, 2019
Respond to: byron@littleriveroutfitters.com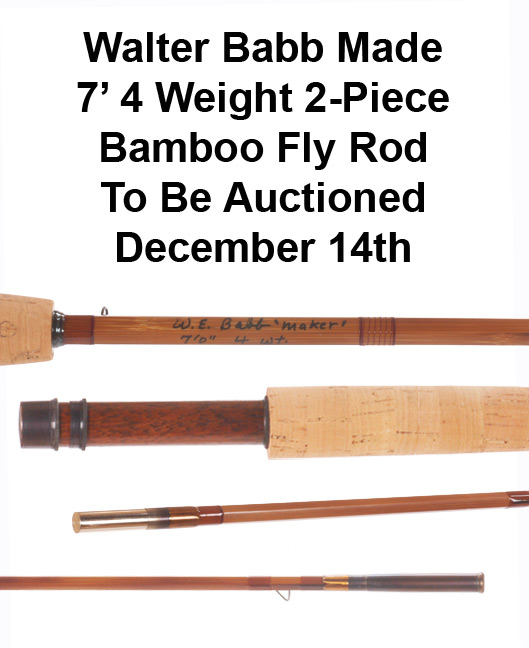 A bamboo fly rod made by Walter Babb and 10 dozen flies tied by him will be auctioned off on Saturday December 14th at about 5:30 to 6:00 pm. This auction benefits the Needy Family Fund of Sweetwater Tennessee. This organization is made up of 20 area churches and raises money to buy food for families in need for Christmas. The auction will be held at the Sweetwater Primary School located at 500 Highway 322 East in Sweetwater.

You do not have to be present to bid on the rod or the flies. Call Phil Roy beforehand, at 423-337-1212 to register. You will be given several phone numbers to call in your bid during the live auction.
Below is what Walter told me about these auction items:
"The rod I made for the Needy Family Auction this year is a seven foot, 2 Piece, 4-weight Wayne Cattanach taper. Wayne is the author of Handcrafting Bamboo Fly Rods, one of the teaching books for me. This is a flamed single tip rod with a Hormigo Negro wooden spacer. In Spanish it is called an ant tree. Reel seat, spacer and ferrules are made by Baily Wood of Classic Sporting Enterprises. Also, the rod bag and rod tube are made by REC.
The box of flies are 10 dozen of my favorite nymphs. They include, three types of Tellico Nymphs, the Gray Squirrel nymph, George Nymph, Bead Head Peasant Tail, Atherton's Medium Nymph, Bead Head Prince Nymph and Mr. Rapidan Emerger. This is my core group of nymphs that I use in the Great Smoky Mountains National Park, Cherokee National Forest and in Western North Carolina. I carry a few others for special occasions or hatches."