If you do not see today's Fishing Report, please refresh your browser to empty your cache.
Welcome to the Fishing Report form Townsend, Tennessee in the Great Smoky Mountains. At 4:58 am, the temperature outside is 68.4 degrees.
It is raining. The chance for rain is low today but at our house, the chance is 100%. The high temperature today will be in the low 80's. Tomorrow's forecast is identical to today. It will be partly cloudy today and mostly cloudy tomorrow.
This has been a very wet August. Rainfall so far for this month at the Knoxville Airport stands at 6.52 inches. Normal for the period is 2.47 inches. Since June 1st, rainfall at the airport is recorded at 12.85 inches, compared to normal of 11.36 inches.
Little River is flowing at 134 cubic feet per second (cfs) or 1.70 feet on the gauge. Median flow for this date is 111 cfs. The water temperature is 68 degrees.
All streams in the Park that have USGS gauge sites are flowing above normal but none are currently blown out. Fishing will be good today unless we get too much rain, which is not likely. Dry flies and nymphs will work.
Lowland rivers exiting the mountains are flowing higher than normal. There is a chance for stained water. I mentioned that yesterday in this report. When I drove to work, I noticed the spring creek that runs through our property was stained. That creek enters Little River at the old Back Porch Restaurant at the north end of town. The guys in the shop who drove from Maryville told me Little River was flowing high and muddy. David, who drives from Wears Valley, said the river was clear. I suspect most lowland rivers will be clear today but you never know for sure.
Poppers, hair bugs and foam floating flies should work. If it is overcast, all the better.
You have some trout or smallmouth bass tailwater options today, at least until late this afternoon. Refer to the TVA website from the links below to plan your day.
This could be an excellent lake fishing day if it is truly overcast. I would still launch early and fish the banks with hair bugs, poppers or foam floating flies. Switch to streamers or swimming nymphs if the top water flies are not working.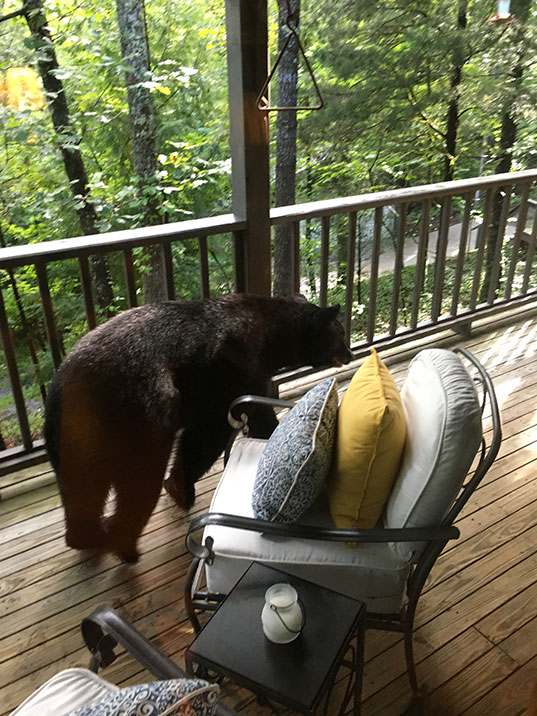 This bear was on our front porch yesterday. Paula took the photo using her phone. The bear walked by me, three feet or less away. I was inside at the time. After the animal walked to the end of the porch I stepped out and started yelling and waving my arms in the air. It just stood there and looked at me, from 27 feet away.
I picked up a small log we burn in fireplace on our deck and threw it at the bear. I missed. He or she sniffed the small log like it was a donut. Then, I fired my .357 magnum revolver into the ground. That did it. The bear ran away. I walked to the end of the porch and watched as it ran through the woods quickly and not looking back.
We don't usually scare bears when they walk by the house. This year is different. These are garbage bears and they are not afraid of people. They are what they are because of careless people. We and our neighbors are trying to instill fear in them. That does not seem to be working. If anything, they are becoming bolder.
One of my best friends, Wayne, asked me once, "When you walk outside do you always think about bears?" I told him I don't. Right now, I do.
Have a great day and thank you for being here with us.
Byron Begley
August 23, 2020
NOTICE: FLY TYERS WEEKEND HAS BEEN CANCELLED THIS YEAR.