If you do not see today's Fishing Report, please refresh your browser to empty your cache.
Welcome to the Fishing Report from Townsend, Tennessee in the Great Smoky Mountains. At 4:56 am, the temperature is 32.7 degrees.
It will be sunny today with a high temperature in the upper 40's. It will be sunny with no rain predicted all week. High temperatures will range from the upper 50's beginning tomorrow, to the low 70's this weekend.
Little River is flowing at 377 cubic feet per second (cfs) or 2.49 feet on the gauge. Median flow for this date is 117 cfs. The water temperature is 50.4 degrees this morning and falling.
All streams in the mountains are flowing above normal. Many are now fishable though they are swift. Water temperatures are plunging this morning. You may want to wait a while before going fishing, when the downward temperature trend reverses and the stream warm some. Fishing will be best in the lower elevations where the water is warmer.
Nymphs will probably work best.
Lowland rivers are flowing higher than normal. Wading will be limited in many rivers. Smallmouth bass may be sluggish due to the cool water temperatures. Trout fishing in the rivers that are stocked will be good.
Wade fishing options on the area tailwaters are limited today due to heavy generation and in some cases, sluicing at the dams. If you are boating or floating with a guide, you will have more options. Check the TVA website from the links below to see if you can work with the predicted flows on your favorite tailwater.
Lake fishing will be fair today. Go early or late when the sun is off the water. Streamers and swimming nymphs will probably work best.
This cold spell will not last long. It will be warm by the weekend. The long term weather forecast indicates we will enjoy a very warm first half of November after tomorrow.
Early yesterday evening, Paula and I were sitting in the keeping area near the kitchen. Our decks are located on the side and front of the house. There are some steps we use to tend to our bird feeders during the Winter months where we were sitting. From that view, all we see is forest and wildlife.
A small bear walked up the steps and pressed his nose on the back door. He seemed interested in an indoor plant just inside the door. We sat and watched until he left. The bear returned a few minutes later and seemed to be putting on a show, begging for food. Obviously, this bear has made a living begging for food, probably from tourists in cabins.
I walked up to the bear (from inside of course) to see how close I could get to him before he took off. The closer I got to the bear, the better he liked it. At one point, he opened his mouth wide and showed me his teeth. He moved down a few steps, I opened the door, and the bear ran away into the forest. He stayed away from the house but in plain view for a while.
This bear has obviously been fed and has become unafraid of humans at a very young age. This does not bode well for his future. Like they say, "A fed bear is a dead bear".
We have had many close encounters with bold bears this year. I have never seen anything like it, after living with these animals for 30 years. This year, every time we walk out of our house, we look for bears. That has never been the case before this year.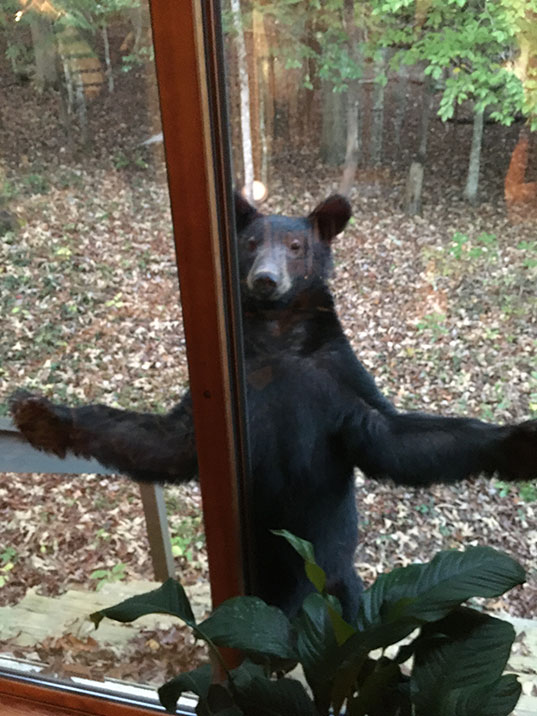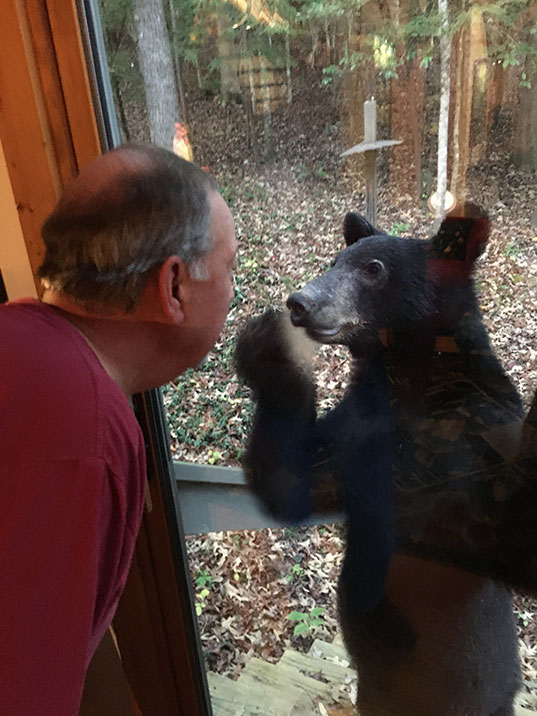 Have a great day and thank you for being here with us.
Byron Begley
November 2, 2020