If you do not see today's Fishing Report, please refresh your browser to empty your cache.
Welcome to the Fishing Report from Townsend, Tennessee in the Great Smoky Mountains. At 4:37 am, the temperature is 47.7 degrees.
Scattered showers moved through the area late yesterday. Rainfall amounts varied by location. The Knoxville Airport got .25 inches, while a personal weather station in Townsend reported .48 inches. Gatlinburg got a trace. .28 inches fell in Cosby and a TVA gauge in Cades Cove reports .25 inches.
Sunshine returns. Today will be sunny with a high temperature in the low 60's, falling to the upper 30's tonight. Saturday will be cloudy early, then clear with a high in the upper 40's and a low around 30 degrees. Sunday will be sunny with a high in the middle 50's and a low in the low 30's.
Little River is flowing at 151 cubic feet per second (cfs) or 1.84 feet on the gauge. The river is rising. Median flow for this date is 157 cfs. The water temperature is 52.5 degrees this morning.
Other streams in the mountains are reacting differently. Little Pigeon River at Sevierville is rising slowly and still flowing below normal. Oconaluftee River is rising and flowing higher than normal. Tellico River is rising quickly and flowing at about twice the normal flow for this date. Cataloochee Creek rose quickly, peaked and is now receding.
Water temperatures are withing the trout's preferred range in the low elevations. Fish in the low elevations where the water is warmer. I don't know how far some streams will rise. It's too early to tell. You may want to wait before going fishing and watch the gauges. There will be a lot of leaves in the streams. It was windy yesterday and the leaves were falling, then rain arrived and more fell. Nymphs will probably work best for you today.
Some lowland rivers are flowing low and others are not. I don't expect smallmouth bass fishing will be good, but trout, where they are stocked should be active. You may find some lowland rivers temporarily stained. Nymphs, streamers and egg patterns are good fly choices.
They will be churning water through the turbines at many dams today. There are breaks in the generation schedules later at a few dams. Check the TVA website from the links below to see if you can work with the generation schedules at your favorite tailwater. If you are boating, you will have more options.
This will be a nice day to be fishing on the lakes. Winds will be calm. It will be sunny, which is not one of my favorite conditions when lake fishing with flies. I don't know how good the fishing will be but I would cast weighted streamers to the banks and retrieve slow.
We have one of four bird feeders out during the daylight hours right now. This is a risky bird feeding time due to bear activity so until it gets colder, we will only risk using one feeder. I was in the basement talking to a plumber yesterday morning. Paula watched a bobcat walk out of the forest. The cat was very interested in the birds flying to and from the feeder. He or she walked to the feeder post and looked up. Then, something spooked it and the cat fled back into the forest.
We don't see many bobcats, but when we do it is a treat. We have watched bobcats catch and kill squirrels right near our home, twice. We saw one chase a squirrel up a tree one morning. The squirrel got away. I took some photos of one that was waiting for squirrels to come out of the trees to the ground, 20 feet from our house. Finally, it gave up, stood, stretched, then left. You can see two of the photos below.
Have a great day and thank you for being here with us.
Byron Begley
November 12, 2021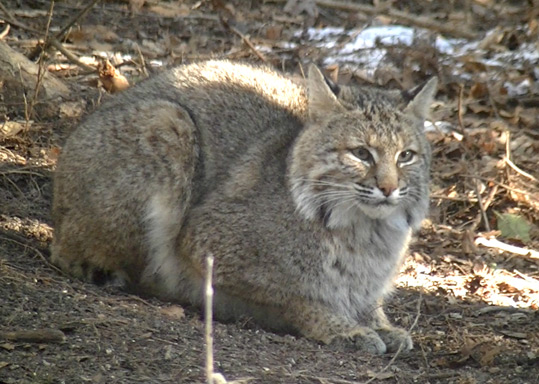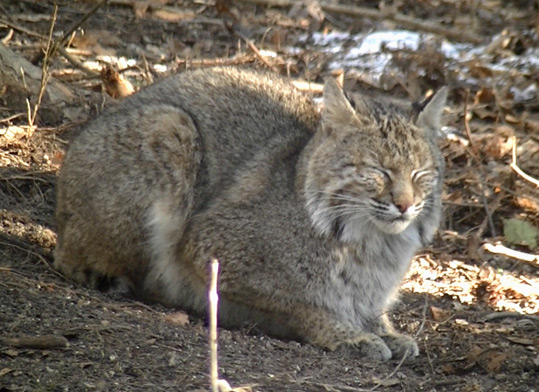 WALTER BABB MADE BAMBOO FLY RODS FOR SALE – CLICK HERE
Walter is selling a selection of over 50 bamboo fly rods. All but one was made by him. The other one was custom made for Walter by Walton Powell. Read the description of each rod on the list and contact him if you are interested in buying one or more than one. Even if you are not interested in a purchase, this web page is very interesting to read. Walter has made over 285 bamboo rods over the past 20-years. You will be working directly with Walter on a purchase and you can test cast the rods before you buy one at his home. Or, call him and he will ship a rod to you. His contact information is on the web page he and I created.