Welcome to the Fishing Report from Townsend, Tennessee in the Great Smoky Mountains. At 4:42 am, the temperature is 45 degrees.
It will be sunny today with a high temperature in the upper 70's and a low tonight in the middle to upper 50's. Tomorrow will be partly sunny with a high in the middle 70's and a low around 60. There is a low chance for showers tomorrow afternoon and a higher chance overnight. Sunday will be warm again, with showers possible in the morning.
Little River is flowing at 57.1 cubic feet per second (cfs) or 1.34 feet on the gauge. Median flow for this date is 126 cfs. The water temperature is 55.6 degrees this morning.
Streams in the mountains are flowing low. Most trout will be holding in broken water or near cover. Use light tippet and smaller flies. A dry fly with a weighted nymph dropper is a good combination to use under these low water conditions. Trout may take the dry fly or the nymph. Dress to blend with the forest and make longer than usual casts to avoid being seen by the trout.
Fly fishing for stocked trout in the rivers flowing out of the mountains is fair to good. Small nymphs tied to light tippet and suspended under a strike indicator is a good rig to use. Trout will be holding in the deeper pools and runs.
The lowland rivers are flowing very low. Smallmouth bass will be holding or cruising in the deep pools and runs. The bass will be active due to the warm water temperatures. Nymphs or streamers are good fly choices.
Fishing on the lakes is fair. I would go early or late when the sun is low and find shaded areas to fish. Cast to the banks or cover with streamers, fished deep and slow.
TVA and the Corps will be generating for long periods at many dams today. There are some generation schedules you can work with if you are wading and more if you are boating. Check the TVA website to see what tailwater fishing options you have today.
Mike Adams will be tying at the shop tomorrow. This will be a Free Fly Tying Demonstration. All you have to do is show up. He will be tying between 10 am until 2 pm. Mike is a retired fly fishing guide who specialized in tailwater float fishing trout trips. Mike is a great fly tyer and you will learn much by watching and talking to him.
So far, November has been unusually warm and that will be the case over the next few days. Black bear have been feeding on acorns and this year, there are plenty. The acorns are much larger than normal.
We start feeding the birds in November each year when bear activity is low. Paula spray painted our four bird feeders Monday. We decided to put out one feeder in the morning and bring it in at night. After all, we have not seen a bear at our house in several weeks. Tuesday was going to be the day.
Paula got a call from our neighbor early Tuesday morning, who lives about 500 feet from our house. A bear was in her back yard and had torn a screen on the porch. She took some photos of the bear and sent them to Paula.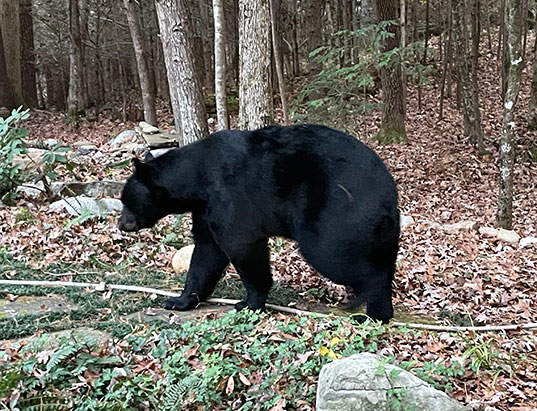 Feeding the birds is not going to happen at our house for a while. That bear is big and well fed. He may be out there right now, staring at me though my office window.
Have a great day and thank you for being here with us.
Byron Begley
November 4, 2022  
FREE FLY TYING DEMONSTRATIONS HELD ON SATURDAYS
For the first time since 2019, we will be holding our Free Fly Tying Demonstrations on Saturdays. The demonstrations will begin at 10 am and last until 2 pm. You do not need a reservation. Just show up and enjoy. These demonstrations will kick off November 5th, and last through mid-December. Then, they will resume in January.
Mike Adams will be tying on Saturday November 5th. Mike is a retired fly fishing guide who lives in upper East Tennessee. He is an excellent fly tyer who has come up with some unique trout patterns to share with you. When Mike demonstrates at the shop, we always have a big crowd.
Bill Boyd will be tying on Saturday November 12th, with his granddaughter "Half Hitch". Bill lives in Dayton Tennessee. He has been a regular, with his dad and wife at many fly tying demonstrations, Troutfest and other fly tying shows. You can learn more about Bill on the Dubbing Teasers website by CLICKING HERE.
Mike Bone will be tying on Saturday November 19th. Mike has been guiding, mostly on the Clinch River and Holston River trout tailwaters for decades. He is also an accomplished smallmouth bass guide. Everyone likes Mike. You will too. CLICK HERE to visit Mike's website.

Saturday December 3rd - Jimmy Jones will be demonstrating today. Jimmy lives in Maryville. He is an avid Smokies angler and golfer. He ties some very interesting and unique flies that work very well in the Smokies. I have learned new techniques, watching Jimmy tie.
Saturday December 10th - Walter Babb will be demonstrating his unbelievable fly tying skills. Many of you know Walter. Most people in the southeast have at least heard of him. Walter is a legend. He loves tying Catskills trout patterns. He is also a well known bamboo rod maker. Walter tells good funny stories. This demonstration will be well attended.